Are having a problem visiting a particular site or all site that you visited and you always required to complete one more step which is Google's security captcha to prove that you are a human before gaining access to the website?
If the answer to this question is yes then I might have a solution to your problem because there is a way out, I understand how annoying it can be to you because it happened to me that I have to click on Google's security captcha to select one image or the other for me to gain access the site that I want to visit especially most site that are connected to CloudFlare.
My own problem started when I tried to visit Jumia site and discovered that I have to fill in the security captcha every time that I tried to visit the site and the worst is even when I manage to gain access all the images will not be visible and I tried all I could but nothing seems to be working for me but I surely discovered the solution which I will share with you.
What I did to solve the problem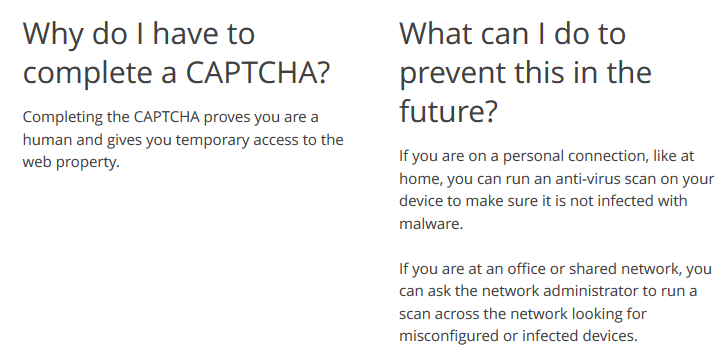 As you can see above you can solve this problem by scanning either your personal or an office computer to make sure it is not infected with malware or misconfigured.
To solve this problem I followed their recommendations by scanning my laptop with an anti-virus to make sure that my laptop is clean but the truth is that scanning my computer didn't solve the problem.
I have to disable all my browser add-ons to see if any of them is responsible for the error but nothing is still working, I went ahead and deleted my browser and downloaded and installed it again and the problem still persists.
I cleared my browser cache and wiped my entire system DNS but nothing is working but guess what?
The problem is caused by the IP address of my network in which I don't have full access over the Ip of my network provider but I know I can still play around though.
Example, if you are using Glo network you might be connected to one particular IP address that other subscribers are using and if the bad guys use the IP to do bad things then that Ip can be blacklisted as untrusted Ip address and you might be restricted from direct access to main website and other services until you prove that you are a human by filling the security captcha and that was what happened to me.

How I solved the problem
As I said earlier I might have the power to determine the Ip I will be connected with but I can still play around and I want to tell you what I did.
Since I have identified the problem, I thought on how to use the same IP to connect but appear as if am using another Ip and to achieve that I need an IP change or a VPN server.
I used Ultrsurf to handle the situation, you can read
How to change your Country Ip using Ultrasurf proxy software
I used UltraSurf to change my Ip and I was able to visit Jumia anytime any day without proving that I am a human because I am sure a human.
If you have experienced such situation and was unable to solve it then don't hesitate to let me know using replay option below and I will be glad to help you further.
This article is filed under
General Tutorial category