GOtv WOW
is an offer designed to reward GOtv plus and Value subscribers with two special channels and monthly airtime rewards to show appreciations to their regular subscribers once they stay connected for 3 months (90 days) or more on GoTv plus and GOtv value channel subscription plans.
According to them, once you qualify to enjoy the GOtv WOW you will get two wonderful channels just for staying switched on!
Zee BollyMovies
on channel 12 which is packed with entertainment and action. And for the best in lifestyle and cooking shows, tune into
Viasat Life
on channel 57.
How does it work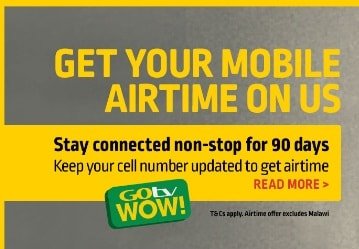 Just stay connected to GOtv Plus or Value for three months or more and remember to pay on time every month. After three months of staying connected non-stop, you'll get two amazing extra channels on your TV without having to do a thing!
The Benefits
The only criteria to qualify for the GOtv WOW offers is to upgrade to GOtv Plus or Value plans if you are not already in any of them, then stay connected by renewing your subscription constantly for 90 days then you will not only be rewarded with 2 special channels but you'll also get a monthly airtime reward sent directly to your mobile phone between N200 - N300 worth of airtime on a monthly basis depending on the subscription plan you are using.

Sported Networks and Amount
Package MNO Currency Local Currency Value

GOtv Plus MTN NGN 300
GOtv Plus GLO NGN 300
GOtv Plus AIRTEL NGN 300
GOtv Plus ETISALAT NGN 300
GOtv Value MTN NGN 200
GOtv Value GLO NGN 200
GOtv Value AIRTEL NGN 200
GOtv Value ETISALAT NGN 200
How to start getting your monthly airtime rewards
If you've been switched on non-stop for three months, you'll get an SMS to let you know that you qualify for airtime rewards.