One of Nigeria's upcoming artistes, Blair and Clinton Roberts, popularly known as DNA Twins are regularly on the news since they signed to Don Jazzy's label Mavin Records.
They are surely one of the most promising young Nigerian artistes but were there any hardships they had to go through on their way to success?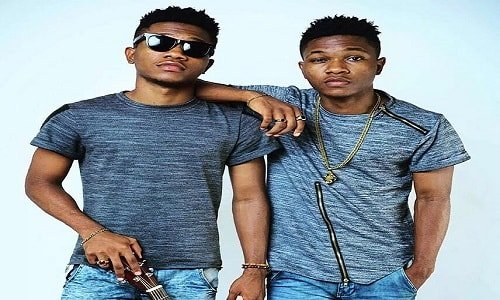 The DNA twins: who they are
Blair and Clinton Roberts are identical twins, who were born on the 16th June 1996. Their family was polygamous, and they have eleven siblings. The boys attended Madonna Model Secondary School, Owerri in Imo State.
Their first tentanic step into gaining popularity was when they went to audition for the Glo X- Factor competition right after the final exams from secondary school. However, they became the second band to be evicted from X-Factor, following their predecessors, The SmoothBoiz band.
Even though they did not win the singing competition, they were given a thumps-up and valuable advice by some of the popular Nigerian artists like Burna Boy and Bez. They praised the twins for their great performances on the stage of X-Factor and told them to work hard in order to achieve more.
It was learnt that the twins themselves declared after their eviction that they were going to use X- Factor and the recognition they gained there as a platform for building a successful career.
They also promised that Nigerians and the whole continent will see them and hear their new music in the nearest future.
Making valid their promise, the talented twins soon after their participation in the famous musical contest released their debut single, "Mash Up Freestyle" and this got them lot of praise and attention from their fans.
Leaving X-Factor behind, they tried to participate in other competitions, like "The Voice".
They also failed to win there but it certainly gave them a lot of new fans and admirers. They were to pay for all this fame however.
News spread to their fans on April 2016 that their twins were kidnapped by armed people when they were on their way to Lagos. Of course, the fans became worried for their safety and the family asked the public for their help.
The kidnappers asked for a 6 million naira ransom for the boys, later increasing the sum to 10 million naira.
Whether the ransom was paid or not, fortunately the boys were rescued, and their brother publicly announced on his social media that they have safely returned home.
DNA Twins: The inside facts
They are from Imo State, Nigeria. Music has been their passion from the young age and they were inspired by some of the most famous worldwide artists like Michael Jackson and Usher.
Among Nigerian singers, they enjoy listening to Wizkid, PSquare, Banky W, Tiwa Savage, and Dare Art Alade and they had shared the stage with PSquare and Burna Boy once.
According to the boys, the name of their band stands for blood DNA, which connects them not only biologically, but musically too – as music is part of thier DNA.
They said X- Factor has changed them. The twins admitted that they have become better at singing, dancing, stage movement, and psychological mindset thanks to their experience on the show.