Posted by: Everest
« on: January 12, 2018, 01:03:14 PM »
When it comes to buying a domain name the question is always how and were to buy cheap domain name for my website but this article will guide and list few top Nigeria based domain name providers where you can simply get cheap domain names and
hosting
if you wish but now we will concentrate on how to get
cheap domain names in Nigeria
Before I start I will like to ask a simple question, what is a domain name?
It will be important to understand what we are talking about before proceeding to the next step, according to Wikipedia
A domain name represents an Internet Protocol (IP) resource, such as a personal computer used to access the Internet, a server computer hosting a website, or the website itself or any other service communicated via the Internet
Examples
www.xtremeloaded.com
is a domain name and to make it more simple for you, a domain name simply means the name of a website and what we are discussing today is how you can get cheap domain names for your website.
There are many domains and web hosting providers in Nigeria doing marvelously well and both of them don't only offer cheap domain names but also affordable web hosting services.
Note:
If you want affordable domain names and hosting then there are few hosting provider that can even allow you to get a free domain name without paying a kobo but will only pay for the hosting packages.
⇒ Want to know the Webhosting xtremeloaded.com is using then try
Inmotionhosting
the best I use and recommend for you.
How to buy Cheap Domain names in Nigeria and pay in Naira
It's time for me to list few best domain names providers in Nigeria where you can choose your most preferable domain name and pay in Nigerian Naira if you are not comfortable paying in dollars using your ATM Debit Card.
You might like to read:
2018 Nigeria best web hosting, Local and Foreign hosting
1.
Hub8 Hostinghub8
is another Nigerian based domain and web hosting provider that give's you more for less and most importantly hub8 is currently offering completely free hosting for those who want to get started and see what becoming a blogger and webmaster is all about.
The domain registration price is as follows.
.com.ng ₦1,490
.ng ₦14,900
.com ₦3,500
.net ₦3,635
.org ₦3,090
.xyz ₦692
.website ₦448
2.
Web4Africa
Web4africa is one of the best domain and hosting providers in Nigeria and African at large with a server center in Lagos, South Africa, and Ghana.
Web4africa has been in this business for many years and they are well known in Nigeria and as a matter of fact, I started with them and bought this domain "xtremeloaded.com" from them in 2013.
Their domain price ranges from N3000 - N4500 but some domain name might be more expensive such as .NG .AFRICA etc while their web hosting price ranges from N3000 - N30,000 per year with a free domain name.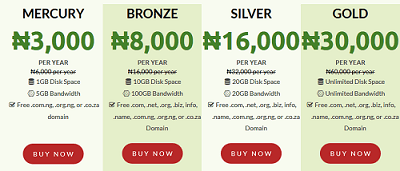 3.
upperlink
Upperlink is a great web hosting and domain provider where you can register your desired domain name and host, they also allow you to pay you our local currency "Naira".
Their domain registration price is as follows,
.com ₦3,900
.com.ng ₦1,250
.ng ₦11.550
.org.ng 1,250
The hosting plans are between ₦3000 to ₦25,000 per year
You can pay in Naira, no need of paying in dollars.
4.
Nairadomains
nairadomains offers you the opportunity to enjoy affordable Webhosting and domain registration in Nigeria starting at N2000 only, this hosting and domain provider is a Nigerian based Webhosting that offers all their product and services in Nigerian Naira.
5.
Domainking
Domainking has been the most peoples choice as they offer unbeatable hosting packages and domain registration that Nigerians can simply per in Naira
Their Domain Pricing is as follows.
.com N4500
.net N5600
.org N3999
.biz N5600
.com.ng N1399
.in N1400
6.
Whogohost
Whogohost is one of the Nigerian popular Webhosting and domain name provider that offers you real value for your money and if you are looking for the best place to buy
Cheap Domain names in Nigeria
then Whogohost will be the best choice.
See their domain prices
7. Registeram
Registeram is specifically designed for domain registration, and related services such as SSL certificate registration and lots more, if you are looking for where to get Cheap Domain names for your website then Registeram is one of the domain providers where you can simply pay in Naira.