There are many good web hosting providers in Nigeria but I will list 8 best and most affordable web hosting in Nigeria that you can choose to start your business with.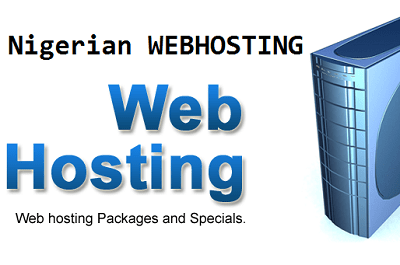 When I say web hosting in Nigeria it doesn't necessarily mean that they have their data centers and servers in Nigeria but any web hosting provider that allows you to pay in your local currency which is Naira (₦) will be regarded as a Nigerian web hosting provider, though most of them still have their servers in Nigerian but any web hosting provider that allows us to pay in our local currency is qualified to be among the
8 Cheapest web hosting providers in Nigeria
Note:
Going for another foreign web hosting that does not accept naira directly does not mean you can not pay with your Naira Master or Visa Card and personally, I don't use any of Nigerian based web hosting provider but I use Inmotion Hosting because they give me what I really wanted.
I previously wrote:
2018 Nigeria best web hosting, Local and Foreign hosting
but there are new big guys in town that needs to be recognized, that is why I decided to list
8 Cheapest web hosting providers in Nigeria
Before the list, I wish to inform you that I don't use any of the listed Nigerian web hosting providers and will not guarantee you anything in terms of their performance and support but if you want to use the web hosting that I trust and use then try Inmotion Hosting, this list will be based on the allocated resources and their hosting plan prices.
1.
hub8 web hostinging
Hub8 hosting is now one of the best web hosting providers in Nigerian that offers you more resources and features for an affordable price and most importantly Hub8 offers free web hosting that you can start without paying a dime but only needs to pay for your domain name, you can read
how to buy cheap domain names in Nigeria and pay in Naira
Hub8 hosting plans and prices
According to what I saw when checking them out, they offer an affordable hosting plans and packages with a price range between
₦2,500 - ₦16,900
per year depending on the hosting package you need and most importantly this customer support is good because they are always online to render help or answer your questions.
2.
Web4Africa
Web4africa are well known in Nigerian powering thousands of Nigerian websites and yes let not forget that I started with them back in 2012 and later moved to Inmotion Hosting when I believed I needed something more but they are good and well in what they know how to do best.
Web4africa hosting plans and prices
Web4africa offers affordable hosting plans on both shared, VPS and Dedicated Server to Nigerians and their hosting plans allocated resource looks good, their shared hosting plan price ranges from
₦6,000 - ₦60,000
per year.
3.
smartweb hosting
Smartweb hosting is another great Nigerian hosting provider that looks promising and affordable and they offer one of the cheapest shared, dedicated platinum hosting in Nigeria according to them.
Smartweb hosting packages and prices
Smartweb gives you more resource and guarantees excellent server performance starting from
₦3,500 - ₦50,000
per year for their regular web hosting plans.
4.
Whogohost
Am sure you have heard about Whogohost Nigerian based hosting provider that has been existing for many years now and if you are looking for cheap web hosting in Nigeria then Whogohost might be the answer to your question as they offer one of the most affordable hosting plans and packages you can choose from.

Whogohost hosting plans and prices
As I said if you want it cheap then Whogohost is the answer and the hosting plan ranges between
₦4,000 - ₦21,000
per year.
You may read:
How to make $10,000 - $20000 Monthly as a blogger in Nigeria
5.
Globalhosting247
It might be possible that you have never heard of Globalhosting247 Nigerian hosting provider but according to what I see, they are good in what they do and as well offers an affordable hosting plans design for starters and fast-growing websites/blogs.
Globalhosting247 hosting plan and prices
Their hosting plans and prices range's between
₦2,250 - ₦12,500
per year depending on the package you choose for your business.
6.
Utiware
Utiware might not be known by many but they are one of the Nigerian web hosting you really need to know because they are not only offering you cheap hosting plans but as well offers from SSL certificate on the windows and Linux hosting packages which means you can make your website secure without additional cost.
Utiware hosting plans and prices
You can pay for affordable hosting plans between
₦4,000 - ₦50,000
per year depending on the hosting plan you choose
7.
Qservers
Qservers is not new in web hosting business, their hosting packages are designed to empower Web and Email Hosting for Small-Medium Size Businesses and they are currently powering many Nigerian websites/blog, they are the best when it comes to affordable domain and SSL purchase, in web hosting they are among the big players in Nigeria, if you are looking for reliable and affordable hosting plan for your website then Qservers hosting might be the right choice.
Qservers hosting plan and prices
Qservers regular hosting packages and prices range's between
₦3,500 - ₦17,000
per year.
8.
Vbhostnet
Vbhostnet offers something more for less and they designed their hosting packages to cater for small, medium and enterprise hosting according to your need, they have hosting plan called Cpanel hosting for small websites and premium hosting for those who need more power and resource.
Vbhostnet hosting plan and prices
Their Cpanel hosting plan and prices range between
₦2,999 - ₦6,999
per year while their premium hosting packages range between
₦14,999 - ₦24,999