Welcome to the new GOtv Max plan, list of channels included and monthly subscription price details below.
GOtv has recently added a new subscription plan called
MAX
, designed to give you more entertainment, news, and fun with over 60 channels to keep you happy, entertained and informed.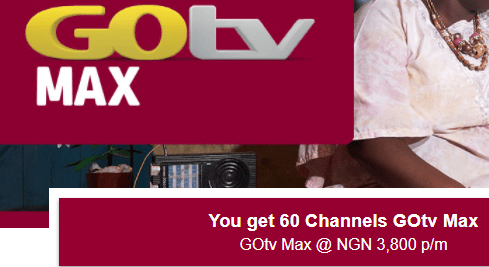 With GOtv Max package you are exposed to the widest variety of choice entertainment including the best selection of sport just the way you wanted since you need more, you have more when you upgrade to
GOtv Max channel package
Popular GOtv plans channel packages is as follows.
GOtv Lite
GOtv Value
GOtv Plus
But now you have
GOtv Max
for more entertainment and fun but if you wish to know more about other GOtv channel packages, feel free to check out
GOtv packages, Channels list and subscription price
How much is GOtv MAX Package?
Am sure you can't wait to know the price of GOtv MAX plan but you will surely get an answer, GOtv Max Plan currently cost
N3,800
per month
What are the channels in GOtv MAX package?
Am certain you really need to know whats new and what you get when you subscribe or upgrade to GOtv Max package but I will be listing all the channels on
GOtv Max
below.
Categories and Channels
⇒
Documentary
Discovery Family, Nat Geo Wild
⇒
Lifestyle and Culture
Fashion One, Spice TV
⇒
Sports
SuperSport Blitz, SuperSport Select 1, SuperSport Select 2, SupersSport Select 3, SuperSport Select 4
⇒
Children Channels
Nickelodeon, Disney Junior, JimJam
⇒
Music
MTV Base, Hip TV, AFRO Music English, Sound City, Planet Radio TV
⇒
Religion
Faith Broadcast Network, Islam Channel, Emmanuel TV, Dove TV
⇒
News and Commerce
eTV Africa, BBC World News, CNN International, Al Jazeera, Arise News, TVC News
⇒
Entertainment and Movies
Telemundo, E! Entertainment Television, FOX (SD/HD), FOX Life, Sony Max, CBS Reality, M-Net Movies Zone, Eva +, AfricaMagic Epic Movies, AfricaMagic Family, AfricaMagic Hausa, AfricaMagic Yoruba, AfricaMagic Igbo, Vox Africa, Televista, Trybe, Galaxy TV, B4U Movies, Zee World.
⇒
Local Channels
Liberty TV, Tiwa n Tiwa, RAVE, R2TV, NTA I, Silverbird, AIT, Channels, MiTV, Lagos TV, Wazobia Max, Arewa 24, WAP, TCV Internacional.
How to Upgrade to GOtv MAX package
If you are currently using GOtv but wish to Upgrade to MAX package simply visit
http://eazy.gotvafrica.com/en/ng/get-gotv/packages/details/gotv-max
with your smartphone or computer and click on Switch to GOtv Max option as you can see below.
Once you click on it a new popup page will appear exactly like this.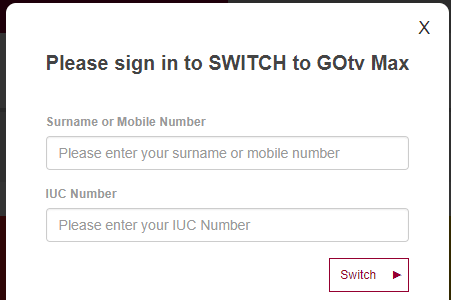 Then enter your surname or phone number as you can see on the image and as well enter your GOtv IUC number and click on the switch and you will be switched to GOtv Max package but might be asked to renew your monthly subscription when you don't have an active plan.