Newly added to the various ways and means of watching television programmes is the
Internet television - IPTV
. Others include but not limited to satellite Tv or cable tv.
The growth of IPTV - often being referred to as video streaming, Web TV or Internet TV, is fast with many greatly praising its efficiency. On the other hand, we have satellite TV (includes card sharing) and cable TV.
To really differentiate between IPTV and satellite tv isn't really definite in the sense that, it is possible to use both simultaneously. One can use more of one and less of the other i.e. one can use a little of IPTV when using satellite television.
Recently, streaming apps given from your satellite service provider along with your satellite tv subscription is an example to clarify this claim. The streaming app is IPTV.
What is Satellite TV?
Satellite television is a service that delivers television programming to viewers by relaying it from a communications satellite orbiting the Earth directly to the viewer's location.(Wikipedia)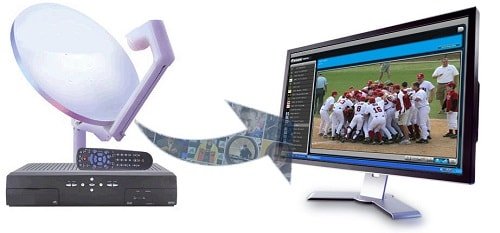 Satellite/Cable television
The signals are received via an outdoor antenna referred to as a satellite dish and a low-noise block downconverter.
What is IPTV
IPTV refers to Internet-based Protocol Television where internet is used to deliver TV programs & Videos that are either live or on demand.
IPTV is a system where digital television service is delivered to the subscriber through Internet protocol technology via the medium of broadband or internet connection.
IPTV services
◆ Live television: Live streaming means broadcasting as it happens. It's like watching live television on the computer screen or on your TV. In this kind of format, we can't pause or skip.
◆ Video on demand: Here, you get video when you demand it. Videos, clips or episodes are arranged by titles or in categories like news, sports or music videos.
◆ Near Video on Demand: It is a pay-per-view video service intended for multiple users subscribed to nVoD service. The content broadcasting schedule is compiled beforehand and subscribers can watch content according to their interest in the schedule.
◆ TV on Demand (TVoD): Selected TV channels are recorded so they can be viewed whenever convenient.
◆ Time-shifted TV: Time-shifted TV lets subscribers view live broadcasts later so they can playback and resume at their convenience. Rewind option is also provided for TV programs
The similarity of these technologies is that both satisfy the television need of their consumers.