The third season of Big Brother Naija, the Nigerian version of the reality show Big Brother began broadcasting around the begining of January 2018 and is slated to end after about 80 days.
Who will win the huge price? Who stays or leaves is up to you. This page will be updated when the winner is announced!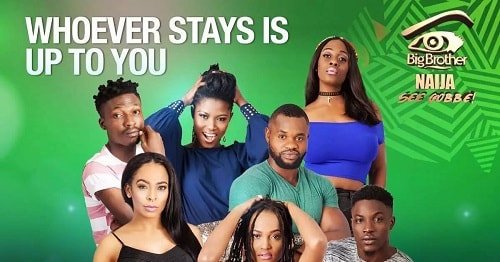 The Winner will be announced on April 2018 during the grand Finale. The talent hunt show which lasts for complete three months!
The 20 contestants aiming for the price are:
1. Tobi - The 23-year old is from Ogun state. He is a banker and photographer.
2. Cee-C - She considers herself to be eye candy and also mentally attractive and does not like judgemental people. She will miss her pillow and duvet whilst in the House. She is 25 and aspires to going to film school and becoming a producer.
3. Anto - This 28 year old is an Etsako indigene from Edo state. She grew up in the US but has always dreamt of coming back to work in Nigeria.
4. Leo - Leo is a Lagos native. Leo is a 25-year old entrepreneur. He believe he will be a fan favourite because he is good looking and intelligent. His favourite colour is black.
5. Ifu Ennada - Ifu Ennada is an actres, writer and TV host, Ifu Ennada is 26 and an indigene of Abia state. Her favourite book is " The Inverted Pyramid" and if she were an animal, she would be a parrot.
6. Khloe - Khloe is a 24-year old fashion designer and is single. She loves horror movies and would be a cat, if she were an animal.
7. Bitto - Bitto is a 26-year old on-air presenter who is currently in a loving relationship.
8. Rico - Rico describes himself as a protector who likes to stand up for the oppressed. He is a 25-year old actor who enjoys swimming and singing.
9. Bambam- Bambam is 28 and ''The Secret'' is her favourite book. She will miss her brother and best friend whilst in the House.
10. Ahneeka- Ahneeka is a 25-year old media entrepreneur who enjoys goofing around. She considers her sister to be her best friend.
11. Miracle Miracle is a trained pilot who enjoys dancing and camping. He is 24 years old and single.
12. Princess- Princess is a Public Relations manager with a construction firm who enjoys cooking and designing clothes.
13. K. Brule - K. Brule is an upcoming song writer and artiste, his hobbies are playing football and watching movies.
14. Teddy A is a recording artiste and graduate of the University of Texas. He is also known as Badman Teddy.
15. Vandora - She is the first of 3 siblings and in a relationship.
16. Nina - Nina is the last daughter amongst 5 siblings, Nina loves singing and chatting.
17. Alex - Shee is 21, she enjoys dancing and talking. She likes polar bears.
18. Dee-One - 27 and is the first of 3 siblings and stand-up comedian.
19. Angel - Angel loves the colour red and his favourite food is beans. He is 31 years and likens himself to a lion because he is strong. His hidden talent is his ability to learn fast and he enjoys music by Evanescence.
20. Lolu - Lolu is 29 and an investment manager. He has always wanted to be a Housemate because he wants to show the world his personality.