Thief hands himself over to police after the bag he stole stuck on his head(photos) - Latest-News - XtremeLoaded
XtremeLoaded Forum / Latest-News / Thief hands himself over to police after the bag he stole stuck on his head(photos) (1 Post
NFF head of Protocol, Ibrahim Abubakar shot dead / Buhari's ADC orders DSS operatives out of Presidential Villa / 4 killed as building collapses in Imo /
Thief hands himself over to police after the bag he stole stuck on his head(photos) by Mattizzy(m) : 10:43 am On May 04
A Tanzania theif, Frank Buhet, handed himself over to
police after a bag he stole from an old
woman got stuck on his head.

He grabbed a heavy sac bag from an old
woman and ran away to his resident.

Unfortunately, when he got home, he couldn't carry it down from his head as many times he tried.

He tried several means to bring the bag down, even lying on the floor but it stayed put on his back. When all means he had tried were not working, he decided to surrender himself to the police.

When he arrived at the police station and
confessed of his crimes, the bag still
wouldn't come off his head. It is believed
the only way he would be freed is if the old woman forgives him.

He is hoping the police would help him track down the old woman so she can undo the spell.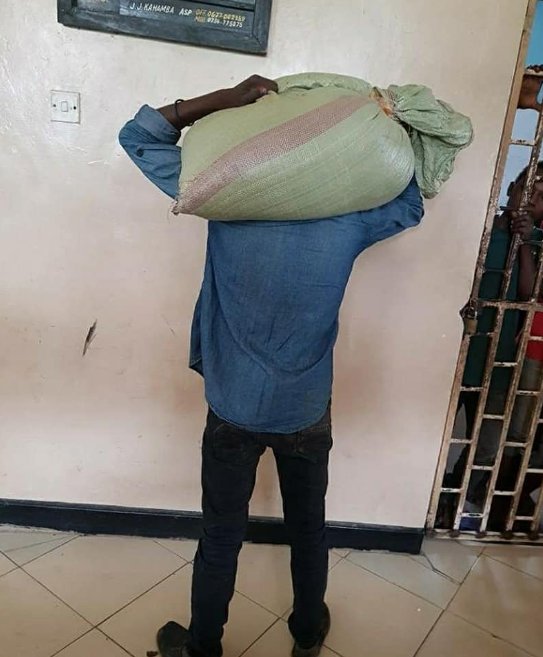 (1) (Reply)
CENSUS 2017: No amount of financial challenge can stop us —Commissioner / Dog Meat Kills Five In Cross River / Certificate controversy: Abuja lawyer drags Buhari to court /
(Go Up)
Xtremeloaded - Copyright © 2018 Collins Ezeakonam. All rights reserved.
Disclaimer: Every XtremeLoaded member is solely responsible for anything that he/she posts or uploads on XtremeLoaded. Contact Us admin (at)xtremeloaded.com