Are you tired of seeing Opera news and browser overpopulating your phone with wanted and unwanted news, do you care to block them and stop all unnecessary popups on your phone, if that what you want then I will show you a simple trick to block Opera Mini browser and News Notification on Android Phones.
You must surely have heard about
Opera news
and their new updated mobile browser that has turned from a normal and perfect browser to a content aggregator.
Opera was officially known as the best when it comes to speed and data saving but not as it used to be, opera min is no longer just a browser but now a content aggregator.
What do I mean by "content aggregator"
In simple terms, an aggregator simply refers to a website or program that collects related items of content and displays them or links to them and that's exactly what Opera is doing.
Opera marketing strategies and thinking have made me hate any of their product, first, they started to encourage opera users to block other website ads while they are the king of intrusive ads and also whitelist those who paid them to be unblockable and now I don't even know if I am the real owner of my phone because Opera now force their users to install any apps that pleases them for their own selfish interest and when you refuse you will never have rest of mind because they will keep forcing you until you install it.
Opera news was heavily advertised and promoted in so many ways but personally, I don't see anything special and I have no interest to download or use it but I was forced to download since I keep getting popups on my screen telling me to download opera news though it will be good for some people but for me I know how and where to get reliable news and info when I deem it necessary not to be distracted with every minute's popup even with fake news.
If you are happy with Opera news and browser pop-ups and notifications every minute and seconds on your phone then this post is not for you but if you are not comfortable with the distractions just the way I felt right now then you need to follow the simple steps that am about to show you below.
Turning off pop-us and notifications on Opera news and browser can only reduce the among of notification on your screen but not totally because opera has made it impossible to block the notification and news completely, you will still be receiving notification from soccer uncle and other related websites.
How to Block Opera Mini browser and News Notification on Android Phones
The best way to stay safe and be in charge of your phone completely is to uninstall all Opera product and services such as Opera mini browser, Opera news etc from your phone but I guess that will be impossible because we are used to it, just follow these steps to reduce the disturbance.
Step 1 ( Disable Notification from Android App Settings)
The first thing we need to do here is to disable Opera news and Opera mini app notifications from general apps settings and to do this go to your Android Settings > select all from the above tab > Apps, then you will see all the downloaded apps, navigate and click Opera Nows and unmark the notification feature and do the same for all Opera browser you have on your phone.
The image above will show you how to disable opera mini and news notifications and the next is to go to opera mini settings and disable few other notifications.
Step 2 (Disable all news notifications in Opera browser)
There are some notifications you need to disable right from Opera browser settings which include start content, news, general opera notifications and facebook notifications by clicking on Opera icon at the below right side then click the setting icon and you will see something like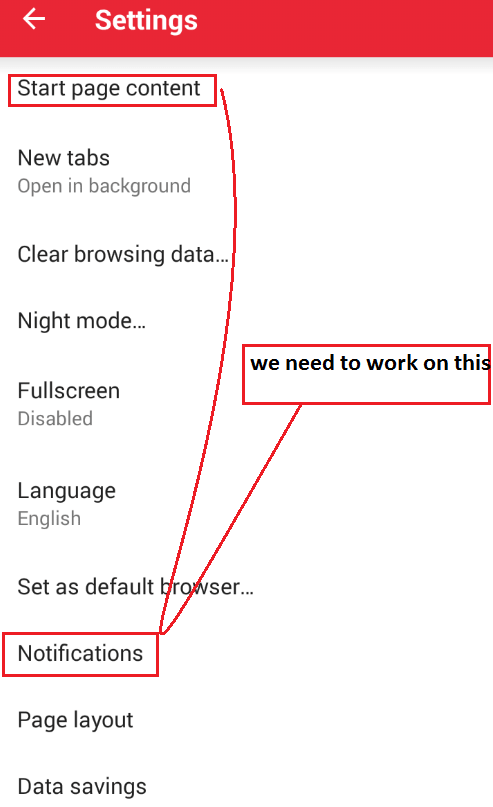 Start page Content
Start page content is the recommendations and news links being populated whenever you open Opera mini which might not be as desirable as it looks, if you wish to disable it then you need to click on
Start page content
and then disable the start page content news by sliding the button to left as you can see below.
Opera Notifications
The next thing to do is to disable the whole of opera notifications by clicking on the notifications and then slide all news notification and facebook notification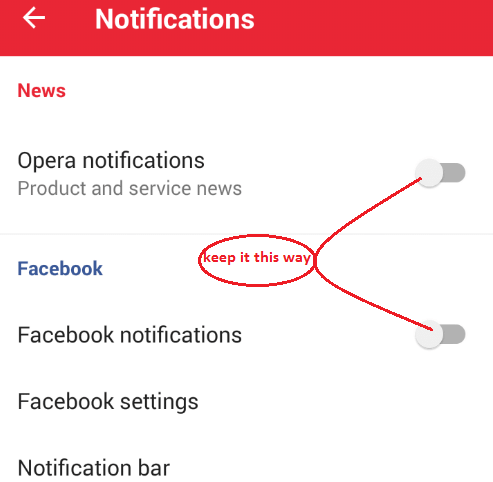 Disabling all these news notifications will enable you to have peace of mind with the new content aggregator Opera but if you see it as a fun and likes it then you don't need to disable it
Finally, I would love to see what you have to say about the new opera content aggregation, news pop-ups etc, do you like it or hate it?