Posted by: Everest
« on: April 13, 2019, 01:41:18 AM »
Tecno Mobile is on it again as they recently kickoff their new
TECNO Spark 3 Light Up Your Dream competition
that followed immediately after the release of the wonderful smartphone. This competition can turn your love for Tecno smartphone into a fortune for you.
If you have been following Tecno mobile on social media you will remember that they have organized similar competitions on several occasions. The introduction of
Tecno Spark 3
has once again trigged the competition, giving you another opportunity to become a millionaire. Yes, you heard me right, I mean you can WIN 1 million doing nothing.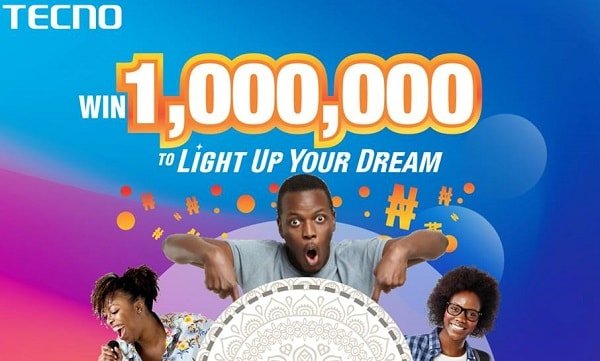 TECNO Spark 3 Light Up Your Dream competition
Tecno has mapped out N7,000,000 Naira to be won in the TECNO Spark 3 Light Up Your Dream competition promo and will be giving out Tecno Spark 3 smartphone to one lucky winner on a weekly basis. It's time to try your luck and you could be among the potential lucky winners but the question is how?
The Obvious truth is that not all Tecno mobile fans and users will be able to win this competition but who knows if you are the chosen one.
How to Participate on TECNO Spark 3 Light Up Your Dream competition
The real question is how to be part of this game and i know you need an answer to such question but no need to worry, I have a simple and straight answer for you. However, if you don't have enough time with you can visit Tecno mobile
Facebook page
for more info on how to join the competition and stand a chance to win Tecno Spark 3 or 1 Million Naira.
Can't wait to participate? Tecno provided a detailed guide on how to participate in their ongoing
TECNO Spark 3 Light Up Your Dream competition
Follow this instruction below and try your luck.
Step 1: In a few words, TELL Tecno mobile your dream, SHOW them with an image or video what your dream is and DESCRIBE How 1 million Naira will help you achieve it (
Do this on their Facebook page
).
Step 2: In the comment section on their facebook page, Post your entry using the hashtags #LightUpYourDream3 and #TECNOSpark3.
Step 3: Like, Share this post and Tag your friends on Facebook
Prices to be won
Every week, 1 LUCKY fan will win Spark 3, 5 MOST CREATIVE and CAPTIVATING entries will be shortlisted to win gifts or Spark 3. Top 2 will be decided by votes and qualify to the final stage. At the end of the competition, 2 people will win 1 Million Naira each.
To participate OFFLINE: Buy any model of TECNO Spark 3 from any Exclusive Store nationwide, win gift items and get a raffle ticket which qualifies you for a live draw where 5 people will win 1 Million Naira each.
The competition runs from April 3rd to May 17th. Terms and Conditions apply.