Posted by: Everest
« on: May 23, 2019, 12:20:21 PM »
Are you a freelancer or still want to become one but needs helpful tricks that can help you make real fast money from Fiverr and other freelancing platforms such as Upwork, Freelancer. I am going to share some exclusive information on how to get started and if you want to make money from Fiverr.
What you will learn from this page is what others will ask you to pay for buying their Ebooks but I will share it today completely free of charge because everyone needs to succeed legally doing things. What you need right now is the right information. I can't ask you to pay me for you to learn how to get paid too!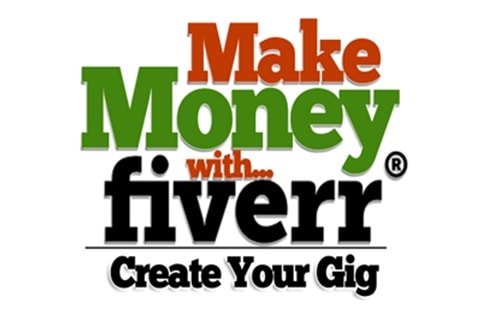 Let me properly introduce myself, I am one of the Nigerian bloggers since 2012, I started with this forum and right now I have some other personal blogs in my name. My nickname is Everest but my real name is Collins as you can see on my profile. However, I enjoy blogging and not just about the money, with money or no money nothing will stop me because that's what I enjoy doing and adding some $$$$ to my pocket doing what enjoy doing makes it a lucrative business for me. Anyway, that's by the way, let me start by asking some important questions.
Do you know Fiverr?
In case you don't know what we are talking about, let me help you. Fiverr is one of the best online market places where you can help or be helped by professional freelancers for as low as $5, Through Fiverr platform freelancers will have the ability to showcase their talent helping others.
Fiverr is just one of the best online freelancing platforms, we have other top platforms like Upwork, Freelancer.com but many choose Upwork as the best among all but getting approved on their platform is another headache you need to treat. For me, the best depends on what works best for you. Some of the clients I work for always invite me to work for them through Upwork but I made more money from Fiverr.
If you have few questions regarding these popular freelancing platforms then feel free to read
ow to make money online as a freelancer Upwork & Fiverr
. I have explained the basics of how to make money through Fiverr, Upwork and Freelancer platform. However, this post is specifically to guide you through how to make fast money from Fiverr just as I did.
How I made $244 from Fiverr in Few days
Firstly, if you want to make money as a freelancer you must learn one of these:
* Web Design & Programming
* Graphics designing
* Article Writing
* Data entry lean Excel
* Marketing and SEO
To make money from Fiverr you must be able to design a website for others or develop different types of mobile apps and if that is too hard for you then learn how to design images using software like photoshop or another good graphics designing software.
Do you know that hundreds and thousands of individual bloggers and companies are looking for expert writers to create content for their website regularly? Writing still requires some knowledge it's not about going to school and able to write. You need to learn SEO (Search Engine Optimization) techniques. You need to learn how to craft readable and engaging content with appropriate headings.
Data Entry mostly is about entering the right figures or objects at the right place and some office workers will like you to help them with their office work. Moreover, you might be required to gather some information from the web and add it to Microsoft Excel.
If you can't do all of the above then how about marketing, can you promote other people's business in different ways or probably be able to learn valid tricks required to help people's website to rank and stand out.
Getting started as a freelancer on Fiverr platform
Now, let us assume you have something to offer as a freelancer, the first step is to visit fiverr.com and register an account with them. Don't disturb yourself trying to change your country to appear as someone from the USA while you are in Nigeria.
Create a Gig
When you create an offer that includes what you will do for potential clients and your price for the offer, it is called Gig in Fiverr and how much you can make will surely depend on your Gig and your capabilities to meet client demand. It doesn't matter if you are the best in what you do or not but your Gig should be able to convince buyers to give you are trial.
As a newly registered freelancer getting the clients will really be heard at the beginning but there is a way so bad guys get over it spending some money to build their reputation but I have never done such a thing in my case and yet am still making good money. Let me guide you on how to create a good and attractive Gig on Fiverr because that's where the journey starts.
Best tricks and tips on how to create attractive Fiverr Gig
The best way to attract clients to order for your Gig is to first understand what they need and offer them the same or even more.
Start with Irresistible title for you Gig
Let's believe you are a writer you can start your Gig title " I will write SEO 2000 Unique and researched content in a day, any niche" this surely looks attractive why?
You will attract those who need long content up to 2000 words, you will as well attract those clients who need their task done urgently and those who are interested in SEO articles will still see your Gig as their destination. that's it.
Keep the price low
No need to get greedy at first because you need to build your reputation first and keeping the price low still doesn't mean you will only work for $5 but that is just to attract buyers. However, Fiverr allows freelancers to offer up to 3 packages in one Gig Like.
* Basic plan
* Standard plan
* Premuim Plan
You Gig title is this (I will write SEO 2000 Unique and researched content in one day, any niche) and under this Gig, you have different packages.
Basic plan
: You need to explain each package in details and if you don't understand it then learn from other people's Gigs, see how they categorized their own. You can offer like 500 words unique and SEO optimized article for $5 but if you want to make it more attractive then offer 1000 words of unique well-researched content for $5.
Standard Plan
: Standard package can include 1500 words for 1$0 I know this much for 10 dollars but don't panic yet, the Gig price doesn't matter sometimes.
Premium plan
: This package is the highest and you need to make it more attractive by matching the title of your Gig with the premium plan, it will include 2000 Unique and researched content for $15 or $20.
How to choose the delivery duration
You need to choose the duration that will be both convenient for you and tempting to buyers, new since you indicated that in the title of the Gig (I will write SEO 2000 Unique and researched content in one day, any niche) that you will deliver in less than 24 hours. You will have to add 1-day delivery to your Basic package, 2 or 3 for Standard and 3-5 for Premium package. But remember if you can deliver faster then it will be better.
Ask buyers to contact your before ordering your Gig
I have rejected many offers especially those who don't contact me before ordering 1000 words or 2000 words for $5 because not every project can go for $5 that is why you need to ask them to contact you to ask them some questions about their project.
Contacting you will make the $5 price irrelevant because after discussing with your potential buyer you will now give them the actual price of 1000 words or 2000 words based on their demand and create a custom offer for them if they accept your price.
This is the real tricks, all my Gig is $5 but trust me I made $244 in just 7 projects and am sure you now know that I don't work for $5, that's the secrets.
Conclusion
You can create different Gigs for different purposes but make sure that they look attractive to buyers. However, you have to start from somewhere and if it means accepting low price projects, do it to build your reputation because buyers need to see the 5-star rating from different buyers to convince them that you know what you are doing.
I only have few clients but am so happy because they keep coming back and always willing to pay more because they like my work and that is why I said that the amount of money you can make depends on your capabilities and how you craft your Gig.
Finally, am open to any question if you have any, suggestions will also be welcomed but don't forget to read other interesting guides published on
Webmasters Boards