Posted by: Everest
« on: July 04, 2019, 05:24:07 PM »
Most people find it hard to shop online in Nigeria and even when they managed to order for some product and services they become restless because of the fear of unknown but you don't need to be especially when you are shopping in one of the biggest online shipping malls like Jumia, Konga and rest of them.
To help you relax while waiting for your goods to arrive Jumia has simplified the system which allows you to know when your order has been received and processed. However, you will be able to know when your goods are shipped and on the way to your destination.
The question "How to track my order on Jumia platform" always pops up especially if you are new to online shopping or new to Jumia platform. If that is the case then we are going to find out how you can easily track your order on Jumia. Be rest assured that your goods will surely be delivered even if it's delayed so there is no cause for alarm.
Jumia Order tricking methods
Tracking your order is as simple as reading ABCD but not when you are not familiar with the system. I am going to help you right now and right here. Moreover, there are 2 simple methods you can follow to track your order on Jumia platform.
First Method
Let us believe you have ordered for your goods and wanted to track and know the progress. What you need to do right now is to head to
www.jumia.com.ng
if you are in Nigeria but don't worry Jumia will detect where you are coming from and redirect you to the appropriate Jumia link design for your country.
Goto Jumia website (
www.jumia.com.ng
) and then login if you are not logged in already. You will see "Hello Your name" located at the top right-hand side. Once you click on your name you will see other options like " My Account, My Order and My saved items" You simply need to click on my Order to see the progress. See the image below.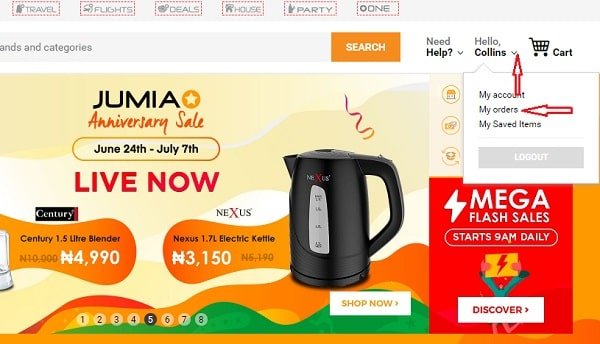 When you click on My orders you will be taken to another page where you will see the status of all orders placed on Jumia, see the sample image below.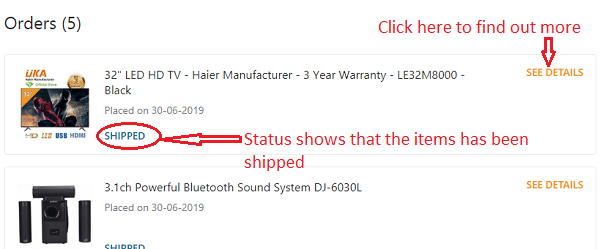 The status simply shows that the item has been shipped on currently on its way to your house but if you wish to see more about the progress and expected delivery date then you need to click on see details and you will be on another page where you can also see the progress history.
To see the package history and progress you simply have to click on See history and you will be taken to the last page that looks like this.
Second Method
There is another way to track your order on Jumia platform, you will be able to find all the details about your order and the shipping progress. However, you are going to need your order number which you are going to track your order with.
To get started simply go to this link (
https://www.jumia.com.ng/track/
), you will be taken to order status page like this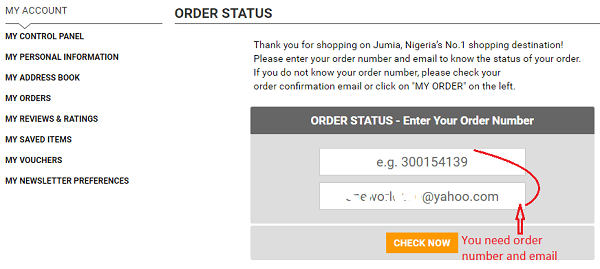 Add your other number and email address in the provided field and click check now, you will go to another page where you can see the progress and status of your order as shown below.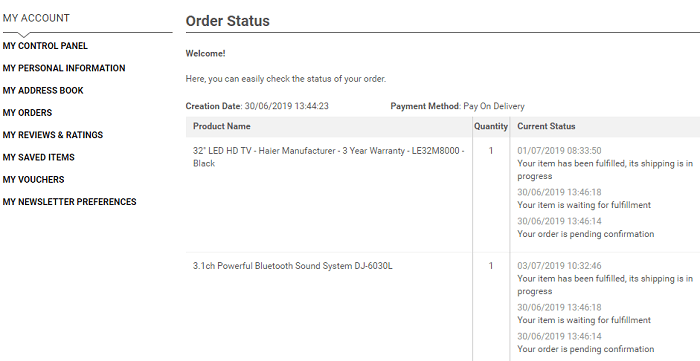 If you are still finding it hard to track your order don't hesitate to share your problem with us for more help.