Posted by: Everest
« on: September 30, 2019, 12:08:52 AM »
It's no longer news that Apple recently announced and released their new iPhone 11 smartphone which is currently making waves in the market right now. However, we are going to use this opportunity to find out what's new in the iPhone 11 and why you should consider buying one.
Well, the iPhone is only for those who can afford it but the good news is that the iPhone 11 comes in 3 different versions namely, iPhone 11, 11 PRO and 11 PRO MAX. The most expensive among them is iPhone 11 Pro Max, can you guess the price?
I will explain more regarding the price but the first thing to be aware of is that storage memory and random access memory determines the price of the phone.
What's new in iPhone 11
Am certain that you will be interested to know what is new in the new iPhone 11 or probably what makes the phone special and that is what we are going to find out right now before looking at the price.
Bigger and better (size and design
Initially, Apple started with a 4.7-inch display smartphone but they have joined the new trend, the bigger the better, interestingly the new iPhone 11 comes with a bigger display which means more fun compared to other iPhones with 4.7-inch display size. Moreover, the iPhone is not looking bad either in terms of design.
The iPhone comes with Liquid Retina HD, all-screen LCD Multi-Touch display with IPS technology designed to offer the best visual experience, meanwhile, they have opted for the modern notch display creating a room for the onboard built‑in stereo speaker and built‑in microphone aligning horizontally with 12MP front selfie camera and flash right at the top center of the smartphone.
Since we have 3 different models we equally have 3 different sizes, iPhone 11 has a 6.1-inch display, 11 Pro offers little lesser 5,8-inch display while 11 Pro Max is the biggest with a 6.5-inch display.
Looking at the back of the phone, we have a dual 12 + 12-megapixel camera aligned vertically at the top left-hand side accompanied by a brighter true tone flash with Slow Sync. It will interest you to know that iPhone 11 is water-resistant up to 2 meters for up to 30 minutes — double the depth of iPhone XR
Siri8 feature
If you are curious to know what makes the iPhone 11 special then Siri8 feature is one of them and in case you don't know what Siri8 feature is all about then its a feature that allows you to send messages using your voice, set reminders and do lots more.
Powered by iOS 13
iPhone 11 comes with iOS 13 enhanced with A13 Bionic chip Processor, interestingly, Apple claimed that its latest iOS 13 is the most secure mobile operating system in the world, however, I don't know how true it is but you can trust Apple for their word when it comes to mobile security and privacy. According to them, iOS 13 is not only designed to protect users privacy but as well packed with powerful features that matter most.
Sophisticated Cameras
Apple has done something new, they have equipped the iPhone 11 with powerful dual and triple cameras respectively, the way they positioned the cameras makes the difference. Specifically, iPhone 11 has dual rear(12MP+12MP) cameras with 12MP (front camera), 11 Pro has a triple rear (12+12+12MP) cameras and 12MP front while the 11 Pro Max offers the same triple rear (12+12+12MP) cameras with 12MP front.
Undoubtedly, iPhone 11 is one of the smartphones that have all the capacities to produce high-quality images and videos whenever you want and wherever you want it.
Big Memory
Both versions of the smartphones are powered with 4GB random access memory (RAM) but when it comes to internal storage memory then you have some choice to make, you can go for 64GB, 128GB, 256GB or 512GB Rom but remember the bigger the memory the higher the price of the phone.
The 4GB Ram on the new iPhone 11 means more power to do more while the big built-in memory gives you enough space to house your apps, games and media files.
Strong and reliable battery
Apple is known for quality and you should expect nothing less than a strong battery that can keep you connected for hours and days depending on how you use it. Specifically, iPhone 11 is powered by a non-removable Li-Ion 3110 mAh battery, 11 Pro comes with 3046 mAh non-removable battery while 11 Pro Max is equipped with non-removable Li-Ion 3969 mAh battery. The 3 different versions have fast charging features and support Qi wireless charging.
Different colors to choose from
Well, Apple understands that different colors matters to different people that is why they decided to allow you to choose your favorite color. It comes in 6 different colors (Black, Green, Yellow, Purple, RED, and White).
Other features
The new Apple phone supports the followings:
The new Apple phone support Face IdD unlock, Fingerprint sensor, 4G LTE network and lots more, some of them also support dual sim while others only allow a single Nano-SIM or Electronic SIM card.
What's in the Box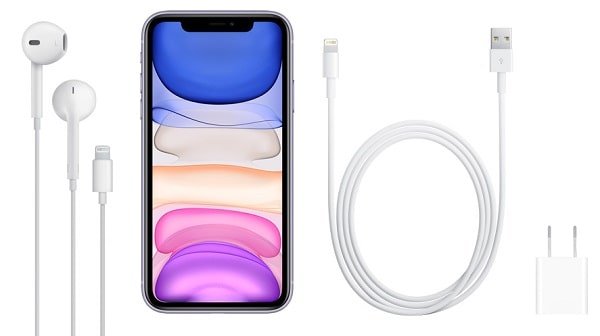 Curious to know what you get inside the box when you buy the new iPhone 11?
* iPhone with iOS 13
* EarPods with Lightning Connector
* Lightning to USB Cable
* USB Power Adapter
* Documentation
Any other thing apart from the one listed above might be a promotional offer.
Price and availability of iPhone 11 in Nigeria
All versions of the iPhone 11 are already available in all the major Nigerian offline and online mobile phone shops and if you care to know the current price then take a look at the table below.
Note:
Price listed on this table are subjected to change anytime, they are just an estimation which means you might get the phone cheaper or higher.
| | | |
| --- | --- | --- |
| Name/Version | Storage Memory | Estimated Price |
| Apple iPhone 11 | 64GB | From ₦315,000 |
| Apple iPhone 11 | 128GB | From ₦365,000 |
| Apple iPhone 11 Pro | 64GB | From ₦430,000 |
| Apple iPhone 11 Pro | 256GB | From ₦520,000 |
| Apple iPhone 11 Pro | 512GB | From ₦610,000 |
| Apple iPhone 11 Pro Max | 64GB | From ₦459,000 |
| Apple iPhone 11 Pro Max | 256GB | From ₦565,000 |
| Apple iPhone 11 Pro Max | 512GB | From ₦670,000 |