Posted by: Everest
« on: October 11, 2019, 12:37:07 AM »
The biggest online shopping mall in Africa Jumia is set to kick off their yearly Black Friday promo this November and it's time to start preparing for the promo before the time. Jumia Black Friday is when smart people shop smartly, buying more while paying less.
If you are eager to know the exact date when Jumia black Friday 2019 will start then you have nothing to worry about because I will not only tell you the date but as well teach you how to save and shop smartly. If you have tried buying things during the previous black Friday's you will understand how it works.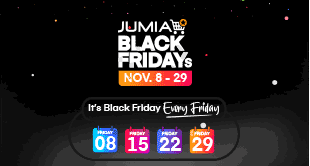 Jumia Black Friday
In case you don't know what Jumia Black Friday is all about, it's a yearly promotional offer that lets you shop on Jumia mall at a discounted rate up to 80% off and that is the best time to shop for whatever you need for the Christmas season. To enjoy the black Friday you must be prepared before the time.
Starting and ending date
Jumia Black Friday will Kick off on 8th of November 2019 and end the same November 29th, we have a few days left so get ready to enjoy amazing offers
To ensure safe and fast delivery Jumia fixed the black Friday in November to enable them to deliver the items bought from the online shopping mall on time before roads get busier during the Christmas period.
How to get prepared and make most out of Jumia black Friday
Well, I have done my part by telling you the actual date of the Black Friday and it's your turn to save some money and prepare to shop from the biggest Nigerian online shopping mall at the right time. Though saving money is not just enough, you need to stay connected to Jumia mall to make sure you don't miss any offer.
You can always download Jumia mobile app from Google Play Store, install on your phone and shop on the Go, it doesn't matter what you are doing or where you came from as long as you are in Africa, you can shop from anywhere anytime, throughout the promo.
Every Friday in November is a black Friday
Jumia Black Friday is not a one-day promo, every Friday that falls in November apart from 1
st
November which is also Friday but every other Friday will be a black Friday and you should take note of these dates below.
8th November 2019 (First Black Friday)
15th November 2019 (Second Black Friday)
22nd November 2019 (Third Black Friday)
29th November 2019 (Fourth and last Black Friday)
Note
It might not be necessary to wait for Friday's because every other day between 8th November to 29th November is a black Friday and not just Friday's alone. However, you just need to stay connected and be watchful because some attractive and irresistible offers will come and go and if you are not fast enough you will miss them.
More postsSpecial Promos to watch during Jumia Black Friday
Jumia has something in store for everyone willing and ready to shop on the online shopping mail this November, they have special packages which include.
Treasure Hunt
: Jumia usually gives a 90% discount on some expensive products like Apple iPhones, Samsung Galaxy phones and more. To enjoy the 90% discount you need to hunt and be the first to find the item where it's hidden and order it as fast as possible before someone else does.
Flash Sale
: Flash sale is more realistic than the treasure hunt, during the Black Friday, every hour has something good to offer and all you need is to keep your eyes on those items that you need and know when they will be offered at lesser price which is normally stated on the Jumia mall.
Sale more and earn more on Jumia
This is the best time to make more money marketing and selling your products on Jumia and they are calling on business owners who have something to sell to bring their best product at the best price to make the black Friday a better one.
Let me know if you have any questions about Jumia Black Friday!