Posted by: Everest
« on: December 24, 2019, 05:41:57 AM »
The No. 1 mobile loan app called Carbon formerly known as Paylater has added a new feature that allows its users to top up their loans even when they are yet to complete their loan repayment. Today we are going to learn how Carbon Loan top-up works and how you can qualify to be able to enjoy such services.
Obviously, Carbon Loan top-up is not meant for all users but for those who have been able to build a good loan history with them for a long period. Having a good loan history means you have been getting a loan from the platform and repaying it on time as recommended and that way you will gain access to longer loan terms between 3-6 months.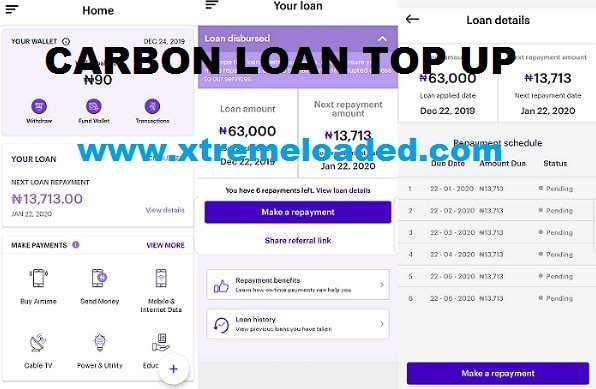 However, new Carbon customers might not be able to top-up their loans, they must prove themselves and be on Carbon good customers list before they can enjoy 3-6 months loan terms which supports the top-up feature.
What is Carbon loan Top up
Let me break it the way you will understand it better, Carbon loan top-up allows you to get more money from their platform before completing your payment for an existing loan but the option is only available for those who are on 3-6 months loan with them.
Carbon is the first to offer loan top-up and in my opinion, they are the best and second to none in Nigeria, I have tried 90% of the loan app we have in Nigeria but still yet to see anyone that comes close to them in terms of low-interest rate, quick response, and disbursement, etc.
Well, I won't deny the fact that there are other good loan apps in Nigeria which I have already listed
here
but Carbon is the only loan provider that has offered me 100% free interest loan and 50% cashback when I paid earlier before the due date.
However, the obvious truth is that my best might be your worst and you are not wrong if that is the case. Carbon will surely not be favorable to everyone, I can still remember back then when they are using the name Paylater, I downloaded the app and after all the long precess they rejected my loan application and I deleted the app with anger.
That's by the way, we are still on the Carbon Loan top-up and I know you have got some questions to ask but the answer will be right below waiting for you.
Why Carbon decides to offer loan top-up
The simple reason is to make life easier for all Carbon users, imagine when you secured a 6 months loan from Carbon and has to wait for the whole 6 months before you can access another loan. What if something else came up and you needed urgent help knowing that you can no longer use Carbon since you are still owing them, what do you do next?
You will probably look for another loan app that might help you out but that can even worsen your case and that's what Carbon tries to prevent by allowing you to get more money while still owing them so that you don't enter into trouble.
How to qualify for loan top-up?
As I said earlier loan top-up is only for those who are on a longer loan term between 3-6 months and to qualify you must download Carbon loan app from Google play store if you have not done so, then fill your information accurately and start using the app for your quick cash need regularly at least the interest is nothing compared to the insult you will get begging your friends to borrow you 5k.
To be on a good customer list you need to borrow regularly repay on time, I don't mean you should request for a loan when you don't need to but use Carbon anytime you need some help and then make sure you pay possibly before the due date. To have access on 3 and 6 months loan terms, building a good loan history is all it takes, you might start your journey from N2,000 and after repaying on time it will be increased to N4,000 and from that 4k you get 8k like that till you reach to the top.
How much can I get for 3-6 months terms
Well, I can't say for sure but using my own experience the higher loan amount you borrow the more loan value increases, borrow 30k and repay on time then you will possibly see 50k and if you borrow the 50K and repay on time you will see up to 80k. That's how to increase loan value if you have the option to borrow 10k and 30k but what you needed is 10k and you went for it instead of the highest value of 30k then the loan value might not be increased.
What's the interest rate for 3 and 6 months loan
Carbon offers as low as a 5.1% interest rate per month on any amount you borrowed for the 3-6 months loan, whatever amount you borrowed will give them 5.1% per month. For example, if you borrowed N63,000 to be paid in 6 months, you are going to give them N3,213 per month + loan amount divided into 6 months = N10,500 + N3,213 Total = N13,713 that's the amount you are going to be paying every month.
* Amount borrowed (Total loan) = 63,000
* Duration = 6 months
* Interest rate per month = 5.1%
* Interest amount per month = 3213
* Total loan amount divided by 6 months = 10500
* Loan amount divided by 6 months + interest rate = 13713
* Amount to be paid per month = 13713
Well, I am not a good mathematician but trying to explain everything the way you will understand it better and yes the calculation above is for monthly payment but if you wish to know the full calculation for the 6-month loan term then check this one out.
* Amount borrowed (Total Loan) = 63,000
* Duration = 6 months
* 6 months total interest rate = 30.6%
* 6 months interest amount = 19,278
* Total loan amount + total interest = 82,278
* Full repayment amount = 82,278
Read:
8 Best loan app in Nigeria that pays faster
Looking at the 30.6% interest rate you might think it's much but trust me I know some other platform that charges up to 30% interest rate just for the one-month loan term. Moreover, if you are self-employed or have a good job that pays 50k and above, you won't have a problem paying 13,713 per month.
When will I get loan top-up
If you are on a 3 or 6 months loan term then pay for the first 2 months on time and the notification will pop up telling you that you can top up your loan, the top-up will be available anytime for you and if you don't need it you can ignore it and finish your loan repayment.
How much loan top-up can I get
Some rules will help you determine the amount you can top up but only if you have paid for 2 or more months out of the 3 or 6 months loan term, then you will be able to top up between 21,000 - 27,426 The amount you can top is calculated like this.
Let assume you borrowed 63,000 for 6 months and you paid 13,713 for 2 months then you will have between 21,000 - 27,426.
* Total loan amount divided by 6 months = 10500 X 2 months paid = 21,000
* Loan amount divided by 6 months + interest rate = 13713 x 2 months paid = 27,426 that's it.
If you paid for 3 or 4 months then calculate the loan top up using the same method above.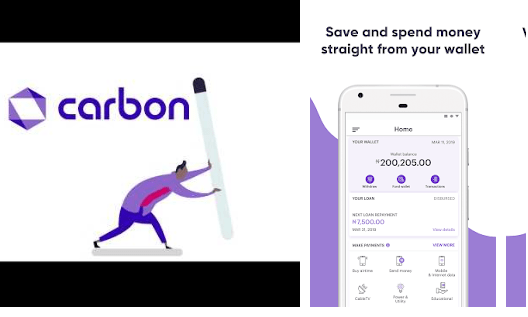 Can I top up my loan anytime I wish
The answer to this question is no, you can only top up your loan once and after that, you need to repay your loan before access another loan from Carbon.
Will I get a new loan term after top up
Yes, you will get I new loan term and am sure of that because am saying it from experience not because someone else says so or because I read what they wrote on their website but I am proudly Carbon user and everything am saying on this page is what I know and have personally tried.
If you have paid for 2 months then it means you have 4 months left to complete your loan but if you decide to top up the loan then you will have another 6 months loan duration with almost the same repayment amount.
Conclustion
Seeking for a loan doesn't mean you are poor, but sometimes you can wait for your regular payday but that problem won't be able to wait. Don't worry Carbon is always there for you.
Remember don't go for a loan that you don't have a reliable means of paying back,' it's important to even have alternative means of paying even if your original plan fails because it's somebody's business.
Feel free to share your own opinion or ask any question you like about Carbon and I will respond as fast as possible