Posted by: Everest
« on: February 24, 2020, 01:06:56 PM »
Samsung welcomes another top-notch Android smartphone adding to its Galaxy S series collection, the new smartphone is boasting of high-tech cameras, big memory, and a sustainable battery. Meet the new Galaxy S20, S20+, and S20 Ultra. With revolutionary 8K Video Snap changing how you capture not just video, but photography.
The new smartphone features Samsung Knox security, an intelligent battery, a powerful processor, and massive storage as it introduces a whole new world for mobile. As seen above Samsung Galaxy S20 comes in 3 different versions (S20, S20+, and S20 Ultra) The biggest and of course most expensive is Galaxy S20 Ultra.
We are going to find out the specifications, price and as well compare both of the smartphones to know the differences and as well as similarities, so if that wants you are interested to see then let's proceed.
What makes Galaxy S20, S20, and S20 Special?
I wouldn't like to go into details regarding this but the little I can tell is that the camera is something else, the battery is also strong enough and the big random access memory and storage memory is a plus followed by other irresistible and outstanding features.
Samsung Galaxy S20, S20+ and S20 Ultra Price in Nigeria
I know that many of us will be interested to know the price first before any other thing that is why I decided to go with the price first. However, the phone is already in the Nigerian market and also available on Jumia and going by Jumia prices below is what I saw.
Samsung Galaxy S20, 6.2-Inch (8GB 128GB ROM) = ₦302,200

Galaxy S20 Plus, 6.7-Inch (8GB 128GB ROM) = ₦335,900

Galaxy S20 Ultra, 6.9-Inch (12GB 128GB ROM) = ₦420,000
You can preorder right now on
Jumia
at the rate of the price listed above and get Free Galaxy Buds & Screen Repair.
Unboxing Video of Galaxy S20 Ultra
Design & Display
Whether it's S20, S20+ or S20 Ultra, bezels are pushed back and there is no notch — only a minuscule hole in the camera. The Infinity-O Display certified by HDR10 + offers a large, immersive screen with limited onscreen interruptions. Different versions and different sizes but the same cinema viewing standard that fits in the palm of your hand.
120Hz makes the scrolling smooth with seamless transitions to the screen. While super-fast, precise tactile response offers a more sensitive gaming experience. When you see it, you will believe it - and sense it. However, Samsung didn't opt for a side or rear-mounted fingerprint sensor but offers ULTRASONIC FINGERPRINT Built into the screen, it pulses for invisible security to detect the 3D ridges and valleys of your prints.
Water Resistant:
Samsung Galaxy S20's are not afraid of the water as it boasts of a stand up to 1.5 meters of water for up to 30 minutes
Still not sure about the size then you have got some choice to make. Galaxy S20 has 6.2-Inches while S20+ offers 6.7-Inches and to wrap it up we have the king (Galaxy S20 Ultra) with 6.9-Inches display bigger and smarter.
OS and Processor
The 3 versions of Galaxy S20 is equipped with Android 10.0; One UI 2 operating system and Octa-core (2x2.73 GHz Mongoose M5 & 2x2.50 GHz Cortex-A76 & 4x2.0 GHz Cortex-A55) processor for global version accompanied by Exynos 990 (7 nm+) global version chipset and Qualcomm SM8250 Snapdragon 865 (7 nm+) - USA version.
RAM & Storage Memory
This phone gives you all the space you need to store your favorite photos and videos, both phones offer massive storage for your high-resistance videos and pictures. You can then expand it with a microSD card to store even more — up to 1 TB in total. Meanwhile, S20 has 8GB/12GB RAM + 128GB ROM while S20+ holds 12GB RAM + 128GB ROM and then S20 Ultra offers 12GB/16GB RAM + 128GB, 256GB or 512GB ROM depending on the version.
With big random access memory, you will expect nothing but the best performance and stability, if you call it a gaming smartphone you are not wrong because it has got everything required to run any heavy high definition games. The new S20 also allows you to increase the storage capacity up to 1TB which should be more than enough.
Camera quality and features
Samsung Galaxy S20, S20, and S20 Ultra are built with an advanced and sophisticated camera design to give you the best quality and brighter images and videos beyond your expectations. S20 Ultra is the bast with high resolutions Quad rear camera up to 108 Megapixel aligned inside a square shape box design on the top left-hand side of the phone.
In low light or dark enviroment, No problem
The pro-grade camera system takes multiple photos at once in low light, combining them into one stunning shot with less blur and noise. Switching to Night mode with larger image sensors and AI means you can film night-time scenes like daylight. Far beyond the range of 12 megapixels, the Galaxy S20 Ultra is offering you millions of pixels in each frame. That means you can pinch in for the first time for more details you'd never seen before.
8K VIDEO in a smartphone
With the new Galaxy S20, S20+ or S20 Ultra you have the highest-resolution video on a smartphone, improving from 4K right up to 8K. That is four times the size of UHD and 16 times the size of FHD. That means that you are going to capture moments in super-sharp resolution. It is a new way of capturing still photography once you hit record. 8K Video transforms each frame into a high-resolution image that you can click on once-in-a-lifetime.
The new sophisticated AI stabilizes video like an action cam while the larger sensor and anti-rolling stabilizer controls camera movement so that the video will not turn out to be blurred and shaky, but super smooth.
Samsung Galaxy S20 Ultra Quad camera resolution
40MP Front selfie camera
12MP, Ultra-wide camera
108MP, Wide-angle camera
48MP, Telephoto camera
DepthVision camera
Samsung Galaxy S20+ Quad camera resolution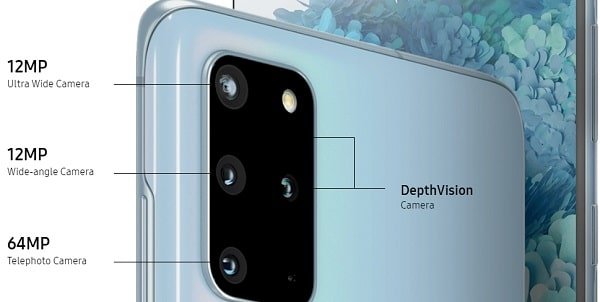 10MP front camera
12MP Ultra-wide camera
12MP Wide-angle camera
64MP Telephoto camera
DepthVision camera
Samsung Galaxy S20 triple camera resolution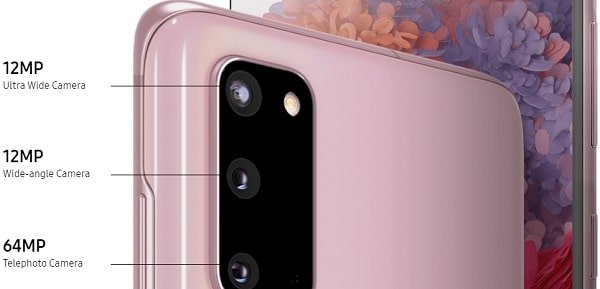 10MP front camera
12MP Ultra-wide camera
12MP Wide-angle camera
64MP Telephoto camera
Battery Capacity
Galaxy S20, S20, and S20 Ultra are powered with all day long 4000mAh, 4500mAh and 5000mAh respectively, apart from the big battery capacity, they're also intelligent, adjusting to your mobile habits to save more power. Specifically, Galaxy S20 has 4000 mAh battery, while S20+ has 4500 mAh followed by the S20 Ultra with a typical 5000 mAh battery capacity.
Other Featuress
Secure processor dedicated to protecting your PIN, password, pattern, and Blockchain, Private Key. Combined with the Knox platform, security is infused into every part of your phone, from hardware to software. So private data stays private.
Powerful speed to keep you sharing and streaming
Stay on top of your games, streams and social media with up to 2.0Gbps download speed on LTE and stable Wi-Fi6 connections
Comarision between Galaxy S20, S20+ and S20 Ultra
Features
Galaxy S20
Galaxy S20 Plus
Galaxy S20 Ultra
Display Size
Resolution
Ratio
Dimensions
Type
6.2" inches
1440x3200 pixels
20:9 ratio
151.7 x 69.1 x 7.9 mm
Dynamic AMOLED 2X capacitive touchscreen, 16M colors

6.7" inches
1440x3200 pixels
20:9 ratio
161.9 x 73.7 x 7.8 mm
"
6.9" inches
1440x3200 pixels
20:9 ratio
166.9 x 76 x 8.8 mm
"
Operating System (OS)
Android 10.0; One UI 2
Android 10.0; One UI 2
Android 10.0; One UI 2
Processor (CPU)
Octa-core (2x2.73 GHz Mongoose M5 & 2x2.50 GHz Cortex-A76 & 4x2.0 GHz Cortex-A55) - Global
Octa-core (1x2.84 GHz Kryo 585 & 3x2.42 GHz Kryo 585 & 4x1.8 GHz Kryo 585) - USA
Octa-core (2x2.73 GHz Mongoose M5 & 2x2.50 GHz Cortex-A76 & 4x2.0 GHz Cortex-A55) - Global
Octa-core (1x2.84 GHz Kryo 585 & 3x2.42 GHz Kryo 585 & 4x1.8 GHz Kryo 585) - USA
Octa-core (2x2.73 GHz Mongoose M5 & 2x2.50 GHz Cortex-A76 & 4x2.0 GHz Cortex-A55) - Global
Octa-core (1x2.84 GHz Kryo 585 & 3x2.42 GHz Kryo 585 & 4x1.8 GHz Kryo 585) - USA
Chipset
Exynos 990 (7 nm+) - Global
Qualcomm SM8250 Snapdragon 865 (7 nm+) - USA
Exynos 990 (7 nm+) - Global
Qualcomm SM8250 Snapdragon 865 (7 nm+) - USA
Exynos 990 (7 nm+) - Global
Qualcomm SM8250 Snapdragon 865 (7 nm+) - USA
RAM
8GB/12GB
12GB
12/16GB
ROM
128GB
128GB, 256GB, 512GB
128GB, 256GB, 512GB
SD Support
Up to 1TB
Up to 1TB
Up to 1TB
Rear Camera
12MP Ultra-wide camera
12MP Wide-angle camera
64MP Telephoto camera
12MP Ultra-wide camera
12MP Wide-angle camera
64MP Telephoto camera
DepthVision camera
12MP, Ultra-wide camera
108MP, Wide-angle camera
48MP, Telephoto camera
DepthVision camera
Front Camera
10MP front camera
10MP front camera
40MP front camera
Battery capacity
Non-removable Li-Po 4000 mAh battery
Non-removable Li-Po 4500 mAh battery
Non-removable Li-Po 5000 mAh battery
Fast charging
Fast battery charging 25W
Fast battery charging 25W
Fast battery charging 45W
Wireless charging support
Fast Qi/PMA wireless charging 15W
Fast Qi/PMA wireless charging 15W
Fast Qi/PMA wireless charging 15W
USB
USB Power Delivery 3.0
USB Power Delivery 3.0
USB Power Delivery 3.0
WLAN
Wi-Fi 802.11 a/b/g/n/ac/ax, dual-band, Wi-Fi Direct, hotspot
Wi-Fi 802.11 a/b/g/n/ac/ax, dual-band, Wi-Fi Direct, hotspot
Wi-Fi 802.11 a/b/g/n/ac/ax, dual-band, Wi-Fi Direct, hotspot
Bluetooth
5.0, A2DP, LE
5.0, A2DP, LE
5.0, A2DP, LE
Sensors
Fingerprint (under display, ultrasonic), accelerometer, gyro, proximity, compass, barometer
Fingerprint (under display, ultrasonic), accelerometer, gyro, proximity, compass, barometer
Fingerprint (under display, ultrasonic), accelerometer, gyro, proximity, compass, barometer
Colors
Cosmic Grey, Cloud Blue, Cloud Pink, Cosmic White
Cosmic Grey, Cloud Blue, Cosmic Black, Cosmic White, Blue, Red
Cosmic Grey, Cosmic Black
Models
SM-G981, SM-G981F, SM-G981F/DS, SM-G981B/DS, SM-G981U, SM-G981U1, SM-G981N
SM-G986, SM-G986F, SM-G986F/DS, SM-G986U, SM-G986U1, SM-G9860, SM-G986B/DS, SM-G986N
SM-G988, SM-G988U, SM-G988U1, SM-G9880, SM-G988B/DS, SM-G988N
Network
GSM / CDMA / HSPA / EVDO / LTE / 5G
GSM / CDMA / HSPA / EVDO / LTE / 5G
GSM / CDMA / HSPA / EVDO / LTE / 5G
Price
₦302,200
₦335,900
₦420,000