Posted by: Everest
« on: March 02, 2020, 10:12:48 AM »
Why keep your money in the bank while you can invest and earn up to 20% of your money which bank can't offer you. Yes, you heard me right Branch international is a money lending platform in Nigeria offering you the opportunity to invest, relax and make money. If it sounds interesting to you then keep reading to learn how it works.
Investing in Branch is another means of making extra money while doing nothing, all it requires is your little savings. However, should I remind you how hard it is to find any platform that offers a 20% return on your investment?
What is Branch
This is one of the best money lending platforms in Nigeria operating with a dedicated mobile loan app called Branch designed to make it easier for Nigerians to access a loan, anytime, anywhere and only takes a few minutes.
If you have been getting a loan using mobile app, then you must be aware of
Branch loan app
because they are the best and only compete with like of
Carbon
, Fairmany and
Okash
, etc.
Branch currently has its offices in different countries which include Nairobi in Kenya, Lagos Nigeria, Mexico City, Mumbai India and San Francisco United States of America. However, they presently operate in the following countries:
India
Mexico
Nigeria
Kenya
Tanzania
How Branch makes their money
Before going further to the investment part, let me explain how Branch makes their money and why you should join their team by investing with them. Branch as a loan provider offers loans to their users with an interest rate between 14% - 28% through the interest Branch takes their total loan amount + the accrued interest.
Why you should invest with Branch
Presently Branch is providing quick loans to more than 280,000 users in Nigeria and still growing rapidly. To be able to meet the demand of their users they need investors who can invest their money and be rewarded with up to 20% interest rate annually. Don't worry if you don't get that correctly, I will break it down for you to understand how it works. When you invest with Branch your money will be used to expand and meet the loan demand of their users, in return, you will be given 20% interest on any amount you invest.
How Branch Loan Investment works
Here is the main reason why we are here and it's important to pay attention to understand how Branch investment works. Meanwhile, to get started you can deposit up to N170,000 for investment and make withdrawals at any time. As I said earlier, the Interest on Branch investment is 20% per annum.
How is the investment interest calculated?
The important thing you need to know is that the interest is calculated daily and earned every week. However, to earn the full 20% interest on your capital, you must keep your investment with the Branch for 12 months (1 year).
When you invest N100,000 (one hundred thousand Naira) you will earn extra N20,000 per year and when you invest N1,000,000 (one million Naira) you will get extra N200,000 interest within 12 months.
The Good news
There is no minimum investment or lock-up period. You can start with any amount that pleases you but the more you invest the more you earn. Talking about the lock-up period, this means that you can invest and withdraw your money when you want and how you want without restrictions but to earn more you need to allow your capital to accumulate more interest.
How to get started
Now you have seen the benefits and what it takes, if you are interested to invest with Branch then follow these simple steps below.
Download Branch mobile app from
Google Play Store
and install it on your smartphone. Open the app and sign up filling all your details accordingly.
After completing the registration, log in to the app and apply for a loan if that's what you want but we are talking about investment, to see the investment menu you need to click the 3 menu lines located at the top left-hand side, then you will see some options like.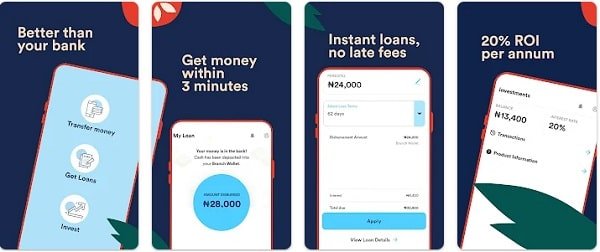 My Loan
Invest with Branch
Earn N1,500
Promotions etc.
Since you want to invest, the right option is to invest with Branch and clicking on it will take you to another menu where you will see investment balance and interest rate. From this menu, you will see two options.
Make an Investment
Make a Withdrawal
Make an Investment will take you directly to another page where you can add the amount you wish to invest and make payment using your debit card. On the other hand, Make a Withdrawal allows you to withdraw your money any time you wish but remember the longer you invest the more you earn.
You can always reach Branch through this email (
[email protected]
)
Conclusion
If you have millions in your bank account that only fetch you 2-5% then why can't you try Branch and get up to 20% interest per annum? Investing 2,000,000 will give you 400,000 in 12 months which is enough to pay your house rent in some areas.