Posted by: Everest
« on: March 30, 2020, 09:34:28 AM »
Do you have a better idea of how to stay at home for 14 days lockdown as recommended?. Let's make it fun while staying safe and help stop the spread of coronavirus in Nigeria.
Nigeria is about to embark on 14 days lockdown in all the states starting from Monday 30th, 2020 in most states while some state is expected to join the lockdown before Wednesday 1st April 2020. Enugu, Anambra, and Lagos are among the state that will be restricting movements starting from Monday 30th.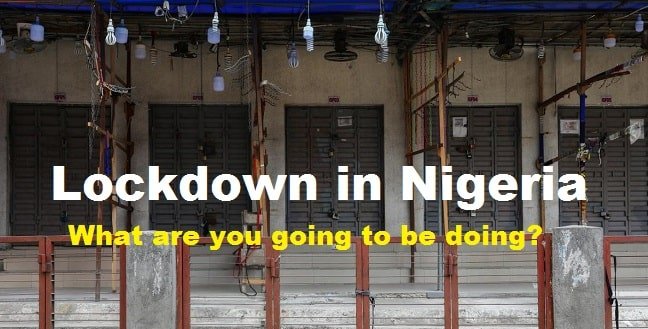 However, the lockdown is the necessary measures needed to be taken in other to stop the spread of coronavirus and it's for our good, stay at home and help stop the spread of this virus. Moreover, it's not going to be easy for anyone but we have to do this to protect ourselves and love ones.
5What you should be doing during coronavirus lockdown in your state
Honestly, this is the hardest decision we had to take and I wish there were other ways to handle this situation. Imagine when someone who finds it hard to afford a paint of garri at N500 now had to pay between 1500 - 2000 and the price of everything has increased drastically. The situation has become so terrible in some states that you can't even see food items to buy.
I don't know how you are coping with the situation but one thing is sure we will survive this and even come out stronger. Meanwhile, I have got a few things to share with you that will help make the 14 days lockdown a blissful and interesting holiday for you and your family.
1.
Work from home
I understand that not every business model can be down online but if you belong to the category that can completely work from home then you have got nothing to lose rather you will be having real fun working while seeing your family around you.
Some industries or companies now support remote access and help their workers to work from home, all it takes is a laptop and access to the internet depending on the type of work you do.
2.
Sleep and Relax
If you are one of those that work from 8 AM - 6 PM daily then it's time to have some rest, sleep as you want and relax with your family. However, you might need to put a few things in place before the lockdown, get enough fuel for your generator because NEPA can't be trusted. I have not seen light for 2 days now. Subscribe your cable and watch your favorite movies and news with your family.
3.
Time for deep thinking and planning
If you never have time to think and plan your life then this 14 days lockdown is another opportunity to cross-check and plan how to achieve your goals. While the world is facing a very serious threat from this coronavirus, be rest assured that we are going to come out stronger, so plan for better days ahead.
4.
Download and watch your favorite movies online
Staying at home will surely become boring when you are not doing anything but with your smartphone and cheap weekly data plans you can relax and watch funny shows and movies on YouTube. I have listed the
best data plan for online Video streaming in Nigeria
and If you have extra N1500 for data subscription then you can get more than 6GB for 7 days which is a nice offer. In case you can't find interesting shows on YouTube then try these
20 Best Free Movie Streaming Sites
5.
Handle all your transactions online
You can practically do everything online these days, you can pay for GOtv and other cable Tv providers using your phone, transfer money even with a phone without internet using
bank shortcodes
or your bank mobile app with smartphones. Moreover, you might be asking how you will be able to withdraw your money during lockdown but I don't think they will go as far as locking even the ATM for 14 days but if that is the case then source for the money before the lockdown.
Conclusion
Obey the rules and stay at home for your own good, it is better to suffer now and stay alive than to have all our freedom and die tomorrow. I pray that we all come out of all this coronavirus war stronger. (Stay at home and be safe)