Posted by: Everest
« on: March 31, 2020, 06:25:02 PM »
If you have been looking for steps to step guide on how to play lotto games online using your phone or computer, then you are at the right place at the right time. I am going to show you how to play Nigerian lotto games online and as well as where to play it. Keep reading till the end if that's what wish to know.
The lockdown in various states will affect some gaming companies in Nigeria especially R&S lotto while others like Premier lotto and winners golden chance stand a chance to gain more popularity during this lockdown. Ghana game, on the other hand, is being controlled by Ghana gaming authorities, the game is only available in Nigeria when it's also available in Ghana.
I have written some guides on how to play lotto games online but it seems that many still don't understand how it works yet. However, I have received calls from fans asking me to show them how to play Ghana game and premier lotto online but before we proceed I will like you to take a look at these related links below:
Best way to play Premier lotto Ghana games and Golden chance online
I am going to keep it straight and simple because I have already provided some guidance on how to play lotto games online but this time I will make it simpler and straightforward.
Note:
The popular gaming platform that lets your play lotto game online is no other but Premier lotto known as baba Ijebu and winners golden chance lotto. I have personally used the two platforms and they trust worthy.
Requirements
You will not be able to play lotto game online if you don't have any of these:
1. A smartphone, Tablet or Computer (You can play with any phone without internet using shortcode *755#, learn more
here
)
2. Active data subscription
3. Where to play online (You must know the URL address where you can play the game online)
How to Play Ghana Games online
Most of the games we call Ghana game in Nigeria includes Monday Special (MSP), Lucky G, Midweek, Fortune, Bonanza, and National, they are the same game with the same results both in Ghana and Nigeria but with a different name based on the platform you use.
Example
Premier lotto will call Monday special (Premier MSP) while winners golden chance calls their own (Golden MSP) but it's the same results from Ghana.
My experience using the 2 lotto betting platforms in Nigeria
Before you decide which platform to use, I will like to share my experience while using them, they don't have anything in common apart from Ghana games that can be played on both platforms. Golden chance has its games while Premier lotto has theirs.
You will enjoy some benefits like a 20% funding bonus when you use Golden chance lotto and their platform is easy to navigate but one biggest issue with them is that you will have to call them each time you win in their platform before you can payout your winnings. Premier lotto, on the other hand, is the best when you care more about the fast payout, they can pay you within a few minutes but Golden chance is lacking in that aspect. Generally, both of them are good.
How to use Premier Lotto (Baba Ijebu)
To play premier lotto online simply go to
https://babaijebu.ng/en/lottoand
look for login or register option located at the right-hand side if you are using a laptop.
Step 1

If you are new click on Register to join the platform, fill in your details accordingly and submit it, a verification email will be sent to your email address provided during registration, log in to your email and click the verification like to verify your account and you fully registered.
Step 2
Let assume you have successfully registered, the next step is to fund your account and start playing online, the good news that Premier lotto gives you 100% of your first deposit, you will be given N1000 when you fund your online account with N1000 as a welcome bonus making it a total of N2,000.
To fund your account locate can click on deposit at your right-hand side, you will be taken to another page where you will be asked for the amount you wish to deposit. add any amount from N100 and above and click Continue to Payment to choose your payment method. You can use your ATM debit card to fund your account easily.
Step 3
You can start playing immediately once you have successfully funded your account, however, there are some options you should understand.
NAP2, means 2SURE you can online play 2 numbers like (11-57) and two of them most come for you to win.

NAP3, this one is called 3 direct and mostly gives the biggest money in lotto but too hard to win, 3 direct is one you play 3 numbers together like (11-57-44), 3 of them must come before you can win.

Perm 2, we call this one permutation and it starts from 3 numbers to 10 numbers, you can perm between 3 to 10 numbers together and if 2 numbers come out of it you will win but the more number you play the more you will pay to play them.

There other options as you can see about but the ones I mentioned are the most popular among other options.
Step 5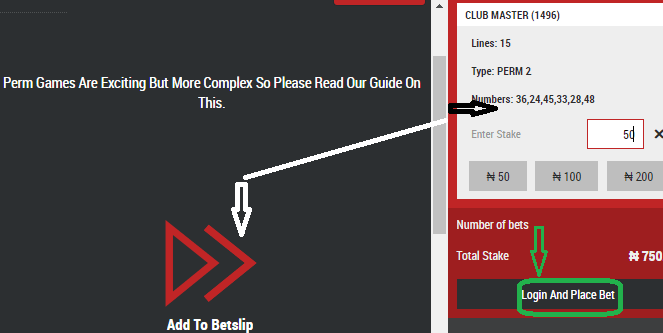 After selecting your desired plan and numbers, click on the option that says add to the bet lists in your right-hand side and put the amount your wish to play and click place a bet.
How to play using Golden Chance platform)
I know you must be tired going through this long post but I won't waste more time on this again because it's the same process, simply go to
https://winnersgoldenchance.com/GamePlay/
and register an account with them. Golden chance online registration is a simple process that won't take you up to 3 minutes. you can learn how to play Golden chance lotto online
here
I am going to stop here, thanks for your time but if you still have any questions or need my help in one way or the other, don't hesitate to contact me using the replay option below.