Posted by: Everest
« on: April 29, 2020, 06:50:46 PM »
Let make tonight wonderful and remarkable with awesome good night love text messages that will make our love ones sleep happily and wakeup with lots of love and hope in their face. Today I will be sharing some simple good night love text messages that can be sent to friends and family.
One special thing about these text messages is that it can help you reach out to your family and friends irrespective of where they are or what they are doing. Sometimes you might be shy to say a word in front of your man or woman but a simple text message will do the magic for you.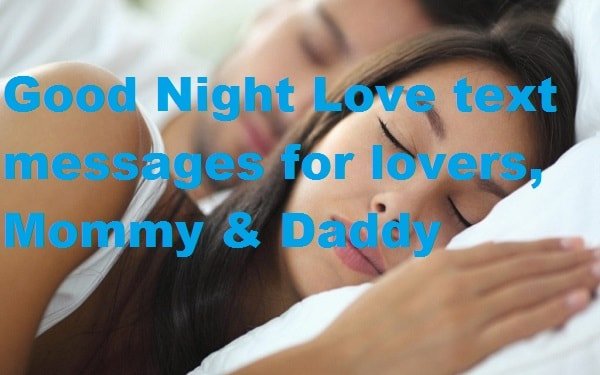 Well, before I proceed I have some other text messages you might be interested to read below:
*
40 Perfect thank you messages (Appreciation SMS)
*
Best Unique Happy New Month Messages For your loved ones
*
0 Best Birthday Wishes and Quotes for your loved ones
Back to business, we are still talking about Good Night Love text messages for your loved ones, it can be friends, sisters, brothers Mommy & Daddy. It's time to show them love before they go to sleep by conveying a wonderful lovely Good night love text message to them.
Good night love text messages for lovers
1. I bless the day you where brought into this world, a day that marked the birth of my missing bone, have a nice dream.
2. A life without you is like a fish in a dried sea, you are my everything and I love you so much. Angels from heaven will protect you for me throughout the night and during the day.
3. I don't care about anything as long as I have you, I have everything I needed to be happy. Sweet dreams my love.
4. My life was boring and full of pain but you are my new beginning and hopefully going to be my new world.
5. There is time for everything, time to work, time to eat and time to socialize but it's now time to sleep, my love. Have a nice dream.
6. I wouldn't think that you are like a food that has different dishes and tastes but the water that remains water irrespective of the weather or season. Sleep tight and wake up healthy.
7. You made me understand the true meaning of love because you are the real definition of love. I wish I can find a way to play with you even in your dream tonight.
8. The stars in the sky will keep shining only for you, the Angels in heaven will watch over you for me because you are my one and only true love. Good night sweetie
9. You are my better half and I am incomplete without you. Sleep like a little child and remember to call me when you wake up.
10. Everything about me stops functioning every night when you go to bed and only start to function every morning knowing that I am going to see your face again. Good night, my sweetheart.
11. You made my life colorful and interesting again and I will forever remain yours, my life has no meaning without you. Enjoy your sleep.
13. All I desire is to have you lying next to me right now because I miss you like never before but I know you are far from me but we are always together in our heart. Sweet dreams my love.
14. More than 2000 years have passed and there are more thousands of years to come but there is only one today. And I would never let it pass without letting you know that I'm thinking of you. Have a goodnight, my love.
15. Being in love is not actually what matters to me, what matters is that I am in love with you. You are incomparable. Sweet dreams my love.
16. It doesn't matter if you sleep during the day or night, what matters is that I love you so much and that's what I need you to know. Sleep, tight Honey.
Good night love text messages for Daddy
17. You are the best Daddy in the whole world and I thank God for giving me a wonderful daddy like you. Good night.
18. You are the reason for my existence and I will forever remain grateful to you for bringing me to this world. Love you Daddy, sweet dreams.
19. You sacrificed everything to raise me and made me who I am today but I have something for you. I will always make you proud. Sleep, tight Daddy.
20. I have seen what other children pass through but you made everything look so easy for me but I promise to be a child that you will always remember and smile. Good night Daddy.
21. What more can I ask from God since he has given me a wonderful Daddy like you? Coming to this world through you was a perfect plan from God. Good night.
22. You are more than a Daddy to me, you are there for me when it matters most and I am so proud of you. Have a nice dream.
23. If there is life after this life, I will always choose you to be my father because you are the best. Sweet dreams.
24. I can conquer all the problems and difficulties of life, with your shield on my head. Good night Daddy
25. All my dreams could not have been accomplished if you were not by my side. Sleep tight Dad.
26. I possess the quality of being honest and a good person only because of your upbringing and hard work. I will always love you. Sweet dreams Dad.
Good night love text messages for Mommy
27. Having you as my mom is the best thing that has ever happened to me because you are the best mom in the world. Have a sweet dream mom.
28. I can't thank you enough for bringing me to this world, may your days be long so you can leap the fruit of your labor. Good night mom.
29. You went through series of pain to bring me to this world, you starved yourself for me to have a good life for that reason you deserve all the good things in the world, I love you, sweet dreams mom.
30. You are not just a mother but a friend, a companion and my everything, I wonder what I could have done without you. Love you mom, see you in the morning.
31. I always wish to be with you because I want to be like you. Being like you makes me the best. You are a mother like no other.
32. I love you mom – not just because you are my mother, but because there is no one else in the world who understands me better. Sweet dreams
33. To the Queen of this home, the Queen of my daddy's heart and the Queen of my
life – I love you. Mommy, I promise to live a life that will do justice to all the sacrifices you've made.
34. My dearest mommy, I love you very much. I can't ever thank you enough. You are the reason for my smile and happiness. Love you always!