Posted by: Everest
« on: May 12, 2020, 06:58:03 PM »
As the popular saying "A friend in need is a friend indeed" how many loan app and providers still stand out as the fight against coronavirus continues in Nigeria?
This post is not about the best loan app in Nigeria because I have already listed
8 best and trust loan apps and providers in Nigeria
. What we are going to discuss is about those providers who have shown that they have the interest of their customers at heart. So we are going to be looking at what loan providers did for their customers while we continue the fight against coronavirus AKA COVID-19
I felt disappointed seeing some of the loan providers taking advantage of the ugly situation to make more money. Making money is the purpose of every business but doing the right thing at the wrong time is the problem.
Thanks to most of the indisputable loan providers that joined the fight against COVID-19 in every little way they can. However, life has never been the same since the outbreak of Coronavirus in Nigeria. I have found most of the loan providers doing the right thing for their customers while some of them are just eager to make more money.
What I did to find the best providers as we struggle to contain the spread of COVID-19
When it comes to loan stuff, I am fully involved not because I depend on loans to survive but because I write about them and I can't tell you the best or the worst loan provider and apps without using them. Honestly, I usually borrow money even when I don't need it just to access any loan provider to learn how they work. It's part of blogging researching and experimenting to provide firsthand and credible information
In Nigeria, we have more than 15 loans mobile app that can be used to get an instant loan whenever you need money. It all started a few months after the introduction of Bank Verification Number (BVN).
I have been monitoring all the popular loan app in Nigeria to see how they are going to support their users in a time like this. Let not forget that most state in Nigeria has been in total lockdown for at least 4 weeks and more.
Within that 4 weeks people's business, schools, industries including banks were shot down, now from the look of things, there are people already owing dept before the lockdown. How are they going to repay their debt without doing their business, I guess their priority will be to find food to eat not to repay the debt at the moment.
What happens now?
I am not surprised to see positive and negative changes from loan providers following the outbreak of the Covid-19 pandemic. But for any loan provider to think that their business is not going to be affected is a joke. I have been on the frontline communicating with most of the loan providers to see how they respond to the current situation.
What I did
Most of the providers that I was owing, I refused to pay them using the lockdown situation as an excuse. I also requested from other loan providers to see if they are still in business or not. I am going to share their responses which helped me to identify my friend because a friend in need is truly a friend indeed.
I am not trying to promote or demote any loan provider in Nigerian but some of them have done great while some got it all wrong and I am going to prove my claims with screenshots.
Best Nigerian loan Apps and providers during the fight against Covid-19
Now, we are going to take a closer look at those loan providers that did something different and great as we struggle to stop the spread of the Covid-19 pandemic in Nigeria. However, I will also be listing the worst providers who took advantage of the situation and those who couldn't stand the heat and stopped giving out loans even to their most trusted customers.
Carbon Loan App
I don't know if you have been struggling to join the Carbon loan family or among some of us that have been enjoying the indisputable services Carbon offers. Honestly, there are only two loan providers in Nigeria, Carbon, and others, I have used different loan providers but none of them does this:
Loan Cashback
I am not saying all this to promote Carbon but they are the first loan provider in Nigeria if not the only one that offers 50% loan interest cashback when you repay your loan on time. In case you don't understand. When you borrow like N10,000 from Carbon to pay 11,500 within 30 days, Carbon will credit your back N750 to your Carbon account which is half of the N1500 interest accumulated from the total loan amount. They have even offered me a loan without any interest as a reward for my loyalty.
Loan Topup
I recently wrote about the
Carbon Loan Top Up feature and how it works
. This feature allows Carbon customers to borrow more loans while still owning them but only available for those who are on long term loans between 3 to 6 months. I won't go into full details because the link above covered everything you need to know about the Carbon loan top up.
If you are on 6 months loan term with Carbon you will be able to top up the loan after paying for 2 or more months and the month will be extended to the next 6 months. No provider has been able to do that in Nigeria, correct me if am wrong.
Offers low-interest rate
When it comes to Interest on loans, Carbon offers a very good competitive interest rate compared to other loan providers in Nigeria. Their mode of operating and everything is entirely different from others.
longer loan terms up to 6 months
I am yet to see any other mobile loan app in Nigeria that offers up to 6 months loan term apart from Carbon, the best I have seen is 2 months from Branch loan but not anywhere close to Carbon 6 months with an option to top up the loan.
What Carbon did for their Customers during Lockdown
Carbon understands the situation of things in the country and knows how hard it is for their customers to repay their loans during the lockdown. What they did is to reschedule loan repayment for most of their customers who might not be able to repay their loans. Interestingly, Carbon extended their customers loan to the next 3 months without additional interest for those who are already on 6 Months loan term that should have been ended for the next 2 to 3 months.
See full details:
Carbon to reschedule loans for some customers who can't pay back
Carbon customers went to Facebook to share their happiness as Carbon rescheduled their loan.
Branch International
I have to choose the second-best loan provider after Carbon, I will go for Branch for some reason, I have been using them for a long time now and I commend them for their wonderful services. They are always ready to help when you need help and never hesitate to increase my borrowing capacity as long as I repay on-time compared to most of the loan apps that I use.
Getting a loan from Branch is one of the quickest I have seen, it only takes a few button clicks on your phone to receive an alert within seconds. However, Branch failed to understand the situation of things during the lockdown as they keep pushing their users to repay their loans despite the lockdown.
When I contacted them, they assured me of no additional charges for late repayment from their customers but might reduce their borrowing capacity as a penalty for late repayment. I wouldn't have added them in the list of best loan providers if the refused to do something because I had to argue with them until they did something positive.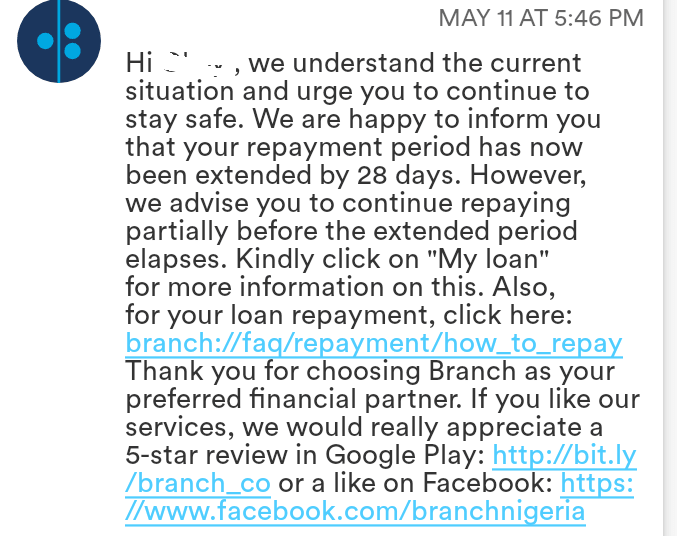 The image above shows that Branch extended my loan to an additional 28 days after some talk with them but my fear is that this extension will not be available for all their customers because it came after I have explained a lot of things to them.
Aella Mobile loan App
I don't use Aella loan app that much but they have surprised me with their mode of operation, firstly, Aella is the first mobile loan app that started offering 1 month (30 days) loan from the very first time you apply for a loan, other loan providers including Carbon will not offer you 30 days loan for the first time but Aella did it.
Normally when you download a new loan app and complete the registration process you will see like 7 to 14 days loan duration but Aella did something different. I intend to explore them more because their interest rate is still competitive. For example, when you borrow something like N7000 you will pay N8400 in 30 days. Apart from Carbon try others and see their charges for even 14 days.
What Aella did during the loackdown
Aella didn't make any official statement through email or SMS but decided to stay silent and never asked their customers to repay their loan when due. Even when you open their loan app you will not see any sign that you are owing them unless you check the date of the loan which is commendable.
These 3 mobile loan providers are the best I have seen so far but I am sure there are others because I don't use all of them even the one they call Fairmany refused to accept me in their platform. Let checkout the worst loan providers that either took advantage of the situation or suddenly stopped offering loans.
Worst loan Apps and providers during the fight against Covid-19
I am going to share my bad experience with some loan providers that I always rated higher than others before the coronavirus outbreak in Nigeria.
HalooCredit App
Honestly, HalooCredit loan providers are the worst inside the worst for trying to take advantage of the ugly situation that Nigerians are facing to extort money from their users. Funny enough HalooCredit claim to offer loan with 0% interest rate but guess what?
The image above shows that they have a credit limit of N6500 with HalooCredit but trying to get the 6500 is another story altogether.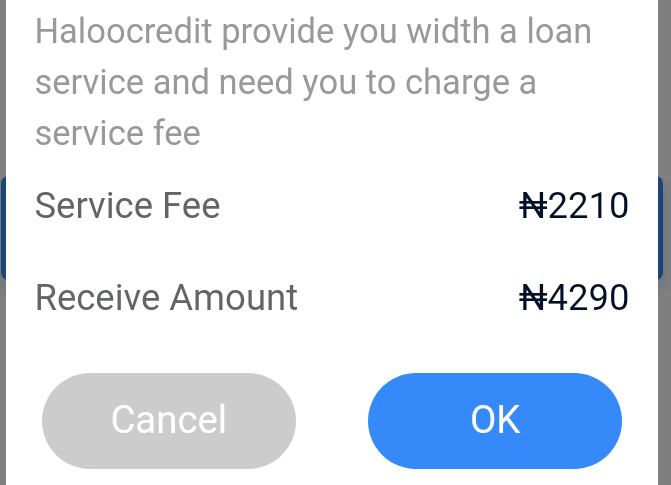 Looking at the image, HalooCredit offers a 0% interest rate on their loan but at the same time charges 34% services fee on 7 days loan duration. Very funny I must say but this is pure greediness to charge up to 34% fee on 7 days loan when their customers need them most.
The image above also shows that if I go for the N6500 loan, what I will receive is N4290 to repay a total of N6500 in 7 days. I contacted them and told them is better to close for business than to apply such a method but who am I to tell them how to run their business.
Migo Money (Kwikmoney)
The second on my list of worst loan providers in Nigeria during the lockdown and fight against Covid-19 is Migo money formerly known as Kwikmany and Kwikcash. I was owing to them before the lockdown but I never waited for the due date to repay the loan but after repaying the loan something else happened.
I can proudly say that I am one of their best customers because I have never owned them for once, in fact before the pandemic I can get up to N60,000 from Migo within a minute but guess what?
Immediately I paid them, they refuse to offer any loan while Carbon is sending me mail asking me to request for a loan to restock my house during the lockdown. I don't blame them they will contact their users during the dry season while they need them most now that it's raining.
Okash (Opay)
I reviewed
Okash loan
a few months ago but unfortunately, they are among the list of my worst loan provider in Nigeria, meanwhile, they have never been on my good list after trying them. They are too trickish and hate them for that, Imagine a loan provider who claims to offer 3 months loan duration while it's 15 days.
I won't go into full details about their loan offers but until they amend their ways if not using their loan app is like eating with the devil and you should be careful. To cut the long story short, they are not in any way helpful during the lockdown, they stopped offering a loan to their customers.
From what I understand, Migo and Okash are trying to play safe knowing fully well that most of their customers will find it hard repaying their loans, that's the reason they refused to offer loans till further notice.
Conclusion
My best might be your worst and my worst might be your best so whatever I said here is just my findings which might be different from your findings. However, some loan providers came for business and to help their customers in any way they can while some came purely for business and don't care about their customers.