Posted by: Everest
« on: June 14, 2020, 12:10:13 PM »
Are you struggling to find alternative means to open your smartphone sim card slot (Sim Tray) but not yet sure how to do it?. Whether you are using Android phones or Apple iPhones, they have a sim card tray that needs to be opened before a sim card can be inserted or removed.
I have seen people asking various questions on this particular issue and most of their questions are mostly pointing in one direction which is how to open a sim card slot on Android phones while iPhone owners still ask how to open a sim card slot on iPhone. I am going to provide answers to your questions in a way you will understand.
Days are gone when all you had to do is to open your phone back cover, remove the battery and insert or remove your SIM, 99% smartphones now have Sim card tray that needs to be opened with a Pin before a sim card can be inserted.
What Is Sim card Tray or Slot?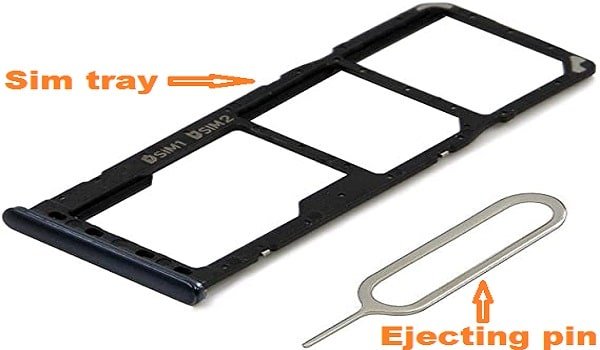 Firstly we need to understand what is Sim card tray or phone sim slot as you may call it. the image above shows the most used sim slot tray containing dual Sim 1 and Sim 2 and dedicated SD memory card slot. You can as well see what we call the ejecting Pin or ejecting tool by the side.
Every modern smartphone whether Android or iPhone comes with a sim slot tray and ejecting Pin but what happens when you forget the ejecting pin at home but suddenly need to swap your sim cards or change your SD memory card?.
How to open sim card slot (Sim Tray)
The reason why you are here is to learn how to open your phone sim card slot and am going to keep it straight. However, there are 4 ways to open the SIM card slot without a SIM tool which I am going to share with you. Let's assume you lost or forgot your SIM ejecting pin but needs to swap your sim or change your microSD storage memory. Below are the 4 alternative methods on how to open sim card slot on iPhone and Android Phones.
Open with Earring or piercing
Try Paperclip
Thumbtack/staple
Use Needle
Note
: The best way to open a sim card slot is to use the sim ejecting tool that comes with the phone but it's almost impossible to go around with the pin without misplacing it because it's too small to notice when it falls on the ground. The list above is the alternative tools you can use to open the sim card slot when you don't have the original sim ejecting tool. Let me explain how they work and how you can use them to open your phone sim card slot.
Open with Earring or piercing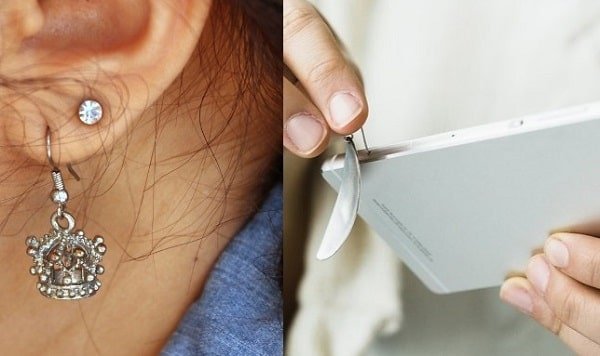 It might surprise you that your earring or piercing can do the job when you are not with any ejecting tool you can call on your Mom, sister, or girlfriend to help you out with there Earring or piercing to open sim card slot tray. However, not all women's Earring has the firing pin that can help you open your sim card slot tray but any Earring with a tiny straight pin can do the magic. Some extreme piercings could be too large to serve as SIM tray openings.
Try Paperclip to open sim card slot
What you saw on the image above is called Paperclip mostly seen in offices and if you can get a hold of such pin while looking for an alternative way to open your sim card slot then the case is over. A Paperclip is a small pin design to be used to hold two pieces of paper together. However, the same pin Paperclip can be used as a SIM tray opener, the question now is how?.
You can't just use a paperclip in its original form to open a sim card slot you have to rebend it to bring it the thinner wires or hooks sizable enough to enter into the ejecting hole. The image above has already explained how best to do it.
Read
:
(Whatsapp Privacy) Scare your chat with your fingerprint

Use any suitable Thumbtack/staple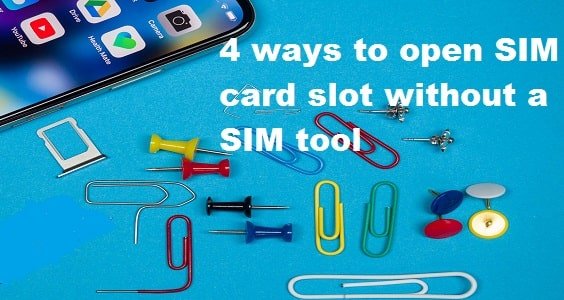 Another ubiquitous object around home and the office is the thumbtack. There are many shapes and sizes, but pretty much all of them are capable of opening your SIM tray. If you're thinking outside the box then you've probably realized that you could also use a staple. And yes, there are a lot of other options, like a toothpick, a safety pin, or practically some other pointy object you've got around.
You can use a Needle to open sim card slot
Whether you are looking for how to open sim card slot on iPhone or Android phones, A needle you have around the house can help you eject your smartphone Sim tray with ease. A needle can easily be found in most homes and even if you don't have you can ask your brother, system, or mom for a needle.
To eject your SIM tray using a needle only use the non-pointed end in the SIM eject hole and press down on the edge of a table. Make sure you don't try this using your hand.
Expect automatic Sim Ejecting
A lasting solution to how to open sim card slot in an iPhone or Android will soon end. Technology is improving very fast and I believe that smartphone users shouldn't be struggling to open their smartphone sim or memory card tray. I encourage smartphone makers to apply automatic Sim ejecting option on any upcoming devices.
Read
:
HOW TO REMOVE Xhelper.apk Virus/Malware FROM YOUR ANDROID DEVICE
Just like we can eject a computer CD-ROM by selecting an eject option while pointing our cursor towards the CD-ROM name. We should as well be able to click sim eject from our Phone display menu.
A smartphone with a pop-up motorized camera
has long been introduced so why not add a slider motorized sim tray feature in upcoming smartphones.
Be my guest, if you have any contribution or question to ask, use the comment option below to share your own opinion.