Posted by: Everest
« on: July 05, 2020, 09:40:26 AM »
We are going to discuss about Inverter Air-conditioners and why they are more reliable and powerful compared to non-inverter powered Air-conditioners. Many of you don't even know that Inverter AC exists or probably doesn't even know the difference between them.
Technology is improving and things are changing very fast, I was not aware of any such Inverter Air conditioners until last year when a friend of mine asked me about it and I went searching for it to learn how it works and as well the difference between the normal Air conditioner we know and the Inverter one.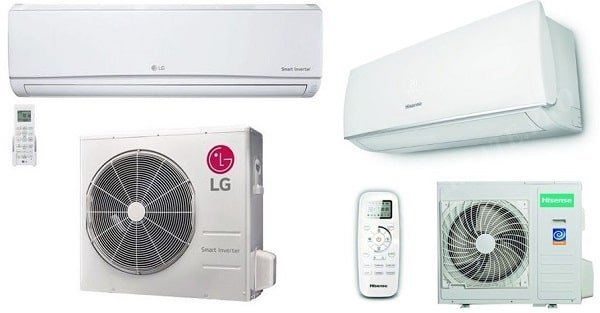 After my research, I found out that Inverter Air-conditioners are the real deal and recommended for anyone who can afford it because it's slightly more expensive than the normal Air-conditioner we know. However, the difference is mainly their mode of operation and not about the color or capacity.
Difference between Inverter Air-conditioner and non-Inverter Air-conditioner
An Inverter is used to control the compressor motor rpm so that the temperature is continuously controlled. The DC Inverter units have a variable frequency drive which consists of an adjustable electrical inverter to control the electromotor speed, The inverter AC's is built to manage and regular power.
To better understand AC and DC, there are two directions in which electricity or current flows: either in alternating current (AC) or in direct current (DC). Electricity or "current" is nothing but electrons passing through a conductor, mostly through wires. The difference between AC and DC depends on the direction the electrons are flowing. For DC, the electrons flow continuously in one direction, while In AC, electrons tend to switch directions, often "forward" and sometimes "backward".
In as much as both AC and DC has their up and downs, DC supported appliances are recommended in most cases because it requires or consumes lesser energy to function compared to most AC appliances.
What you need to know about Inverter Airconditioners
Inverter Air-conditioners we are talking about is not the same with the one you know, it's a new modernized one designed to use lesser energy to work without compromising the performance. Below are the 5 things I think you should know about this type of Air conditioner system.
1. Built to work with lesser energy (Upto 70% energy sever)
An inverter Air-conditioner offers the same features and even more compared to non-inverter AC's but there is something unique about Inverter AC. it can work on 0.9 KVA generators, even small Tiga generator can power this AC, what else do you need to enjoy the cool refreshing air.
Whether you have light or not with a small capacity generator you can continue to use household appliances together with the air-conditioner without interruption in areas where electricity is limited to four to six hours a day. Say goodbye to huge monthly electricity bills. If you are using a prepared meter then you need an inverter powered Air-conditioner.
2. Convert currents and protect itself against high voltage
We discussed about alternating current (AC) and direct current (DC) but this type of Air-conditioners comes with an in-built converter that helps it adjust to either AC or DC. It doesn't matter if you are using AC or DC the modern inverter Air-conditioner knows how to get or convert the current to the most stable current it requires to operate.
Interestingly, If you are living in an area that always has low current then what you need is a good inverter AC that works with the low current without compromising its performance.
3. GEN Mode (Generator Mode)
Inverter Air-conditioners are becoming popular in Nigeria because they are one of the countries with epileptic power supply. Most rich men and women are used to AC's and the only way to keep enjoying that cool air is using their generator, for that reason, most of the Inverter Air-conditioners have what we call
GEN Mode (Generator Mode)
that allows you to use even the smallest generator you have to power the Air-conditioner.
However, it important to use a good generator that supplies stable current to avoid damages, though most of the Ac is built to protect itself when necessary but using a good generator is necessary to avoid stories.
4. More expensive then non-inverter Air-conditioners
Due to the outstanding features of inverter Air-conditioners, the price is a bit higher than non-inverters which is understandable, just like when buying a car with lesser fuel consumption and easy maintenance which is often more expensive to buy than a car that consumes more fuel and expensive to maintain. Moreover, anyone who can afford non-inverter can as well afford an inverter Air-conditioner.
5. Designed for best performance and durability
The most interesting thing about this type of Ac's is that operating with low energy does not affect its performance which means double value. When it comes to durability, you have nothing to worry about even a big brand like LG gives up to 10 Year Warranty to show you have trustworthy the inverter Ac is. The old modern AC's is now outdated, its time to upgrade to double value Air-conditioner that saves energy for you and as well deliver filtered cool air.
Best brand that produces Inverter Ac's
Different brands produce Inverter Ac's filled in the Nigerian market which includes.
LG
Hisense
Restpoint
Polystar
Kenstar
Gree GREE
There are other brands but the above-listed brands are the most popular ones. LG has also dominated the market and to identify LG Inverter AC it normally has a
Gencool Inverter
tag that shows that it has low power consumption and can work with generators.
Where to by an Inverter Air-conditioner
If you want to take a bold step and grab any of the inverter Air-conditioner, simply visit any of the well-known electronics markets in your state and ask them for inverter AC or better still save your self that stress and buy from the biggest online shopping mall
Jumia here
.
Conclusion
An inverter Ac is far better than non-inverter in so many ways and if you are thinking of buying Ac any time soon then consider going for an inverter powered Air-conditioner and you'll be happy you did later. However, if you have any suggestions questions, don't hesitate to ask using the comment option below.