Posted by: Everest
« on: October 04, 2020, 07:46:56 AM »
Calendars are a very useful tool since they're great for keeping track of important events and remembering dates. Some of the first mobile apps developed were calendars and datebooks. Compared to their outdated paper ancestors, calendars are just as useful for the same purposes to this day. Over the years, the technology behind calendars has changed. Here are some of the best calendar apps that can help keep you organized.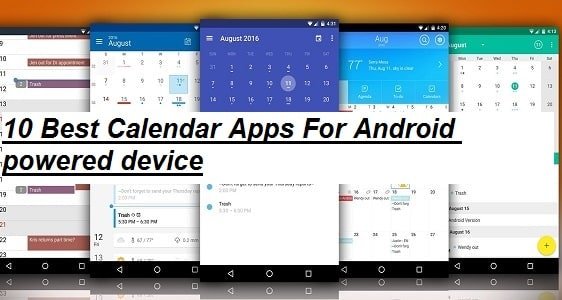 1. Business Calendar & Scheduling by Calendar.AI
Business Calendar & Scheduling by Calendar.AI is a smart calendar solution that helps make your life easier by employing advanced algorithms and platform hooks. This calendar app comes with many smart features like polls for meeting attendants, smart scheduling, and AI-driven research.
This app also integrates some other apps to help you share information with your teammates and clients like the Google Suite and LinkedIn. Plus, the app's good thing is that it is the perfect app to help you organize your life, and it's free.
2. aCalendar
aCalendar is a classic calendar app that features the basic stuff calendar apps normally do like various date views, reminders, notifications, and more. This calendar app has features like customization features, Google Calendar support, tasks, themes, and even special stuff like moon phases and holidays. aCalender has both a free and pro version. Its pro version is priced up to about $5.99. In addition, 10% of the developer's apps revenue is given out to help preserve the rainforest.
3. Any.do
The calendar app, any.do is a combination of a to-do list and calendar, and it is perfect for hardcore productivity kind of people. It is a great calendar for multiplatform fans because it supports Facebook, Google, and Outlook calendars. The UI of the app is Material Design, and it looks nice. However, there's a downside to this app, and that's the price. The app requires a monthly subscription of $2.09 - $2.99 per month.
4. Business Calendar 2
Business Calendar 2 is an app that has everything you can ever need in a calendar app because it features almost two dozen themes, seven calendar widgets, weather information, and various calendar views. Like any good business calendar, the Business Calendar 2 supports subtasks, Google Calendar, and Exchange Calendar. This app is free when used via Google Play Pass, but you can as well pay a one-time subscription fee of up to $6.99.
5. Calendar Notify
Calendar Notify a free calendar app with a premium version that is priced up to $5.49. In terms of this app's basic features, you will be getting Google Calendar and any other calendar with Android Calendars support. This calendar app features a full suite of customization tools and an at-a-glance style UI. Although, this app's premium version gets a lot more advanced customization tools.
6. Calendar Widget by Home Agenda
Calendar Widget by Home Agenda is an app that integrates with Google Calendar for everything except reminders. Plus, unlike most calendar apps, this one can boast of a clean UI and calendar widgets that are clean and customizable. It is a paid calendar app that requires a one-time payment of $2.09. Although, there's a free demo version to let you know how the pro version looks.
7. CalenGoo
CalenGoo is a calendar app with lots of features like customization options, decent event options, recurring events, supports Google Calendar and Exchange Calendar, supports calendar sharing with other people, and more. It is a great app for families or work use. This app has a free trial version and a pro version that goes for about $2.59. When this app is used via Google Play Pass, it is free.
8. DigiCal Calendar Agenda
DigiCal Calendar Agenda is a calendar app that features Material Design, a dark theme, tons of add-ons, themes, weather information, calendar widgets, and support for Google Calendar, Exchange Calendar, and Outlook Calendar, and more. Some of the add-ons of this app include sports calendars, TV schedules, and over 500,000 other events. The app has a free and pro version. The free version of this app has lots of features. On the other hand, the pro version goes for about $4.99, and you can get everything.
9. Google Calendar
For calendars, Google Calendar is the de facto app, and it comes stock on many devices. In this app, there are other calendar apps directly integrated with it. Unlike the other apps on this list, this app's features are fairly basic as it only does the usual stuff. Also, in terms of customization or theming, this app doesn't have much to offer. However, this calendar app has a good web interface, calendar add-ons, and other fun stuff. In addition, this all is entirely free with no in-app purchases, and Google normally updates this app with new features fairly frequently.
10. Simple Calendar Pro
Simple Calendar Pro is a calendar app that cannot be connected to any external calendars like Google Calendar. Although it supports an optional CalDAV, otherwise, it's almost completely off the grid. The Simple Calendar Pro used to have a free version, but that's no longer supported. Currently, the available variant goes for about $0.99. This calendar app is a perfect option for people who want minimalism and probably do not want to store everything in the cloud. It is relatively inexpensive, and it is entirely an open-source calendar app.