Posted by: Everest
« on: October 06, 2020, 10:52:02 AM »
In this recent time, reading books are far different from how they used to be since paper books are way too spacious, especially when the book would only be read once. For that reason, the world has now been taken over by digital books where hundreds or thousands of books can be stored and easily accessible in one device by a few clicks. In short, lots of people are switching from traditional paper books to digital books. To have access to some of these digital books, one needs to have the right programs or apps. So, I will be reviewing the ten best reading apps to ensure an excellent reading experience for book lovers.
Best Reading Apps you need for your daily book reading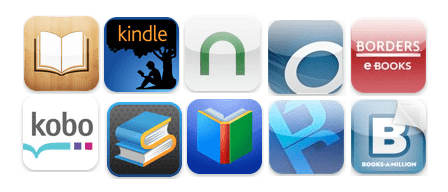 1. Amazon Kindle
Amazon Kindle is the first app that comes to mind when free eBook apps are mentioned, and it is made available in both Android and iOS versions. With this app, you can sign up and download whatever eBook you want to read for free and make purchases of some books you want to read. Also, this app has nearly all the book categories available. It is perfect for people who can't afford to purchase a Kindle Fire tablet by Amazon but want something similar.
2. Nook
Nook is a book reading app that is considered as one of the best. With this app, you will access books by some leading book retailers like Barnes and Noble. This app features a very interactive user interface, and you can import epub and PDF. You will also be able to access magazines, newspapers, and comics because the app offers an integrated store.
3. Google Play Books
Google Play Books is a Google-developed book reading app. This app usually comes in android phones as a default book reading app. Also, books can be downloaded easily for free, and if you wish to purchase any book, the process is rather quick and easy. With this app, customizing different looks for reading will be possible. In the book you're reading in this app, you will be able to change the font's size and color. This app also features an easy dictionary lookup feature that you can use to check out the meaning of any word you cannot comprehend.
4. Wattpad
Wattpad is one of the most popular communities of writers and readers, where the readers help promote, appreciate, and assist writers. In this app, the readers help the writers by giving them constructive criticism to improve their writing. If you are a writer, you can get good exposure to your work with this app and probably get a chance to be scouted by a publisher to help you publish your work. With this app, you can access the stories you save in your library offline.
In addition, your progress while reading can be synced between the different devices you own, and you will be able to continue right from where you left. Currently, Wattpad has a feature to help writers earn from their books. You can sign up for your book as a paid story and get income from it. Readers, on the other hand, will have access to a huge amount of books for free.
5. Goodreads
Goodreads is also one of the most popular reading communities, and you can get some of the best book recommendations from this app. You can find almost every book title you can think of in this app, thereby making it a paradise for readers. You will find lots of free books in the Goodreads app, but there are also many paid books. With this reading app, you can access quotes, play trivia, and participate in giveaways.
6. Oodles eBook Reader
Oodles eBook Reader is an app that gives you access to over 50,000 free eBooks. Plus, to ensure that you can access the eBooks on this app based on your preference, the eBooks are arranged in different categories. With this app, you can access some customization options to help you play with the margins, spacing, text color, background hyphenation, and more. Also, you can be able to read any book in this app in a two-column view. If, while reading a book and you want to get the feel of reading a traditional paper book, you can get a paperback like animation. The top eBook categories in this app are fiction, romance, fantasy, and adventure.
7. Kobo
The Kobo reading app allows you to connect with people in your social circle and get good recommendations, suggestions, and more. With this app, your friends on social networking sites will get the opportunity to like and comment on your reading activities. The app features an online store where you can get access to lots of free and paid books. It also features a wide range of file types to support like CBZ, epub, CBR, and PDF.
8. Aldiko
The Aldiko reading app has a free and premium version. It has a rich reading interface. If you can't spend money on getting the app's premium version, you can rest assured that the free version will be enough for you because, with it, you can get everything you need to read your favourite eBooks. Plus, you will be getting access to a free public library at no extra cost and a free public library with many free books.
9. iBooks
iBooks is only available on iOS devices, meaning that you'll most likely have this app on your device as a default book reading app if you're an Apple user. This app's design is rather elegant and clutter-free. With this app, you'll get the option to customize the fonts and colours. Also, based on the time you are reading, you can switch from day to night mode.
10. FB Reader
The FB Reader supports all the major file formats like ePub, RTF, HTML, Doc, plain text, Mobi, fb2, and more. With this app, true external type and open type fonts can be used. The app also features an inbuilt browser that can be used for downloading different books of your choice.
With this app, books can as well be uploaded by getting them on your external memory card. The app gives you control over how you will read the book, and it has an option for auto scrolling of texts. The background colour, font size, and toggle between horizontal and vertical display can be swapped with this app.