Posted by: Everest
« on: September 16, 2021, 01:38:51 PM »
MTN and the Nigeria Football Federation (NFF) have agreed on a three-year, renewable deal in which MTN will serve as the NFF's exclusive official communications partner. MTN is now the official communications and partner of all of Nigeria's national football teams.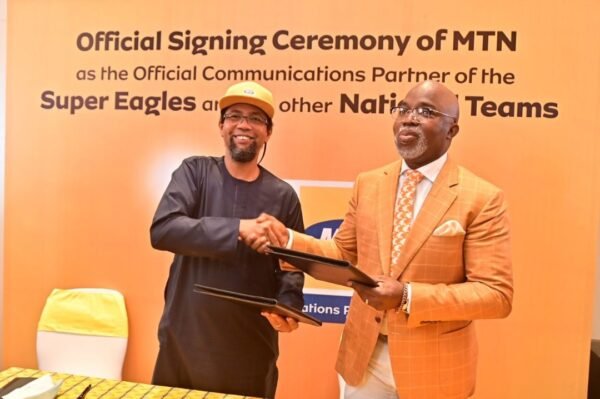 The agreement was revealed during a formal signing ceremony conducted at the Marriot Hotel in Ikeja, attended by MTN Nigeria board members led by Chairman Dr Ernest Ndukwe (OFR) and NFF officials led by President Amaju Pinnick. Sen. Obinna Ogba, Chairman of the Senate Committee on Sports, and Mr Sunday Dare, Minister of Sports and Youth Development, were also present.
MTN's newest investment in Nigeria's vibrant football environment comes as part of a developing engagement with the country.
MTN CEO Karl Toriola stated of the contract, "Football is uniting national interest." It draws people together, breaks down barriers, sparks dialogues, and instills inspiration. We are ecstatic to be partnering with the NFF and to be able to assist all of Nigeria's national football teams over the next three years. This is the beginning of what we hope will be an inspirational, productive, and value-adding collaboration that combines the role of technology with the fantastic experiences that football delivers for the millions of Nigerians who support the national teams."
"I am happy to welcome Nigeria's leading mobile operator as a partner to the NFF and the Nigerian National Football Teams, and thankful for their long-term commitment to collaborating with us to assist the ecosystem," NFF President Amaju Pinnick said during the ceremony. Nigerian football is embarking on a new adventure today, and we're thrilled to be a part of it. We'll be sharing more about our intentions and how you may participate in the coming weeks and months."
The minister, on his part, thanked MTN for its support of Nigerian football development while also urging other corporations to follow in the footsteps of the ICT behemoth and look into the potential of helping the growth of different sports in the country:
"We need all hands on deck to improve our competitive standing, not just in football but in other sports as well. MTN is creating a lasting legacy of support, partnership, and an exciting soccer experience for Nigerians through this partnership, and I would like to take this opportunity to encourage other well-intentioned Nigerian businesses to join us in achieving a paradigm shift in the development of all our sporting federations."
MTN recently announced some activities as part of its milestone anniversary celebrations, including participating in the Road Infrastructure Tax Credit Program (RITC) for the opportunity to reconstruct some road networks in South-Eastern Nigeria using cutting-edge technology, building a world-class campus in Nigeria, and selling down up to 14 percent of its equity to Nigerians.