Posted by: Everest
« on: May 11, 2023, 04:56:11 PM »
TECNO, a global brand that is known for its inventive spirit, recently made the announcement that it will be one of the first smartphone manufacturers to provide the Android 14 Beta version from Google. TECNO's newest CAMON 20 series, which is scheduled to be released later this year, will ship with Android 14 Beta pre-installed.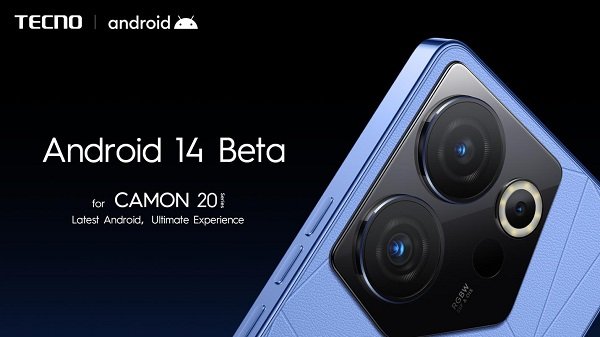 This change will result in a number of changes and additions that will raise the overall experience of the CAMON 20 series to new heights. By bringing a variety of improvements in areas like as privacy, security, speed, and user customization, the Android 14 Beta version intends to significantly improve the user experience of the CAMON 20 series.
"Stop At Nothing" is TECNO's brand essence, and it reflects the company's dedication to providing those who are focused on the future with access to the greatest and most cutting-edge technology. The General Manager of TECNO, Jack Guo, expressed his pleasure in extending the company's long-term relationship with Google to provide the Android 14 Beta to the newest CAMON 20 line of smartphones. Because to this decision, TECNO users will have the opportunity to be among the first to enjoy the many gratifying new features that come with Android 14.
The newly released CAMON 20 series from TECNO offers a compelling combination of high-performance photography, distinctive design elements, and an exceptional user experience. The CAMON 20 Premier 5G features a 50MP RGBW Ultra-Sensitive Sensor in addition to its 5000 times/second Sensor-Shift OIS Anti-Shaking Technology. As a result, it excels at both taking photographs throughout the night and recording stable portrait video.
In addition, TECNO's CAMON PUZZLE Deconstructionist Design, which was given the MUSE Design Award, presents a challenge to the industry's conventionally austere aesthetic by integrating three-dimensional ribbed Magic Skin and sophisticated ceramic material in an original rear cover. This design was a winner of the award.
The Android 14 Beta release will provide a wide variety of improvements in the areas of user customization, performance, privacy, and security. For example, it will provide increased degrees of privacy by making it more difficult for malicious software to circumvent such security and privacy features.
Additionally, the new functionality of Android 14 will enable the system to better handle the background processes, downloads, and uploads. This will increase the system's efficiency, which in turn will lower the amount of power that is used from the battery, resulting in a longer battery life.
Finally, in order to improve the accessibility options available to users with low vision, Android 14 now supports scaling of larger fonts using a non-linear scaling curve strategy. This ensures that large text and small text elements scale at different rates, which helps prevent large elements from scaling too much while also maintaining the proportional hierarchy between elements of varying sizes.