Do you know that you can now use Diamond bank Mobile application to request for Diamond ATM debit card easily, you don't need to visit any Diamond bank to request for your debit card but will only visit the nearest diamond bank to pick up your ATM Debit card.
No need to go and waste your time in the bank and filling forms all you need to do is to pick up your smartphone, install Diamond bank mobile app from google play store if you have not done so.
How to Request for Diamond Bank ATM Card using Diamond mobile App
Let's assume you have downloaded the Diamond bank mobile application on your phone then follow this steps below to request for your Diamond bank ATM Card without going to the bank.
1. Enable data connection on your smartphone, navigate to them Diamond mobile app icon on your phone screen.
2. Log in to Diamond mobile app using your registered username and password.
3. Go to self-service then debit card request, select account and the reason why you are requesting for a debit card.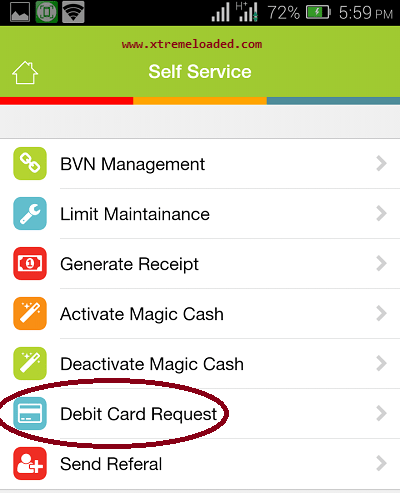 4 Now to complete the request you need to select the pickup branch where you prefer to pick your ATM debit card once available.
5. Now submit your request and you will be notified once your debit card is available and ready for pickup.