Do you know you can still make money even when your game is about to cut just like you can as well
cash out on Bet9ja
, Nairabet introduced a new system that enables you to cash out some amount of money when you are afraid of losing the whole game?
This option is only available for those who play online and not offline.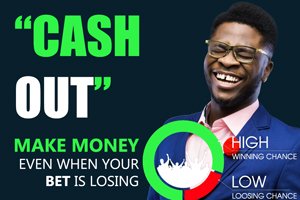 Cash out means you can make money from a bet before the game finishes. It doesn't matter if the team you chose is winning or losing. If you place a live bet (In-Play), you can decide to cash your money anytime during the game. For example, if you choose a team to win and the team is winning and you don't want to wait until the end of the game, NairaBET will offer you money to cash out.
The amount will be changing as the game goes on. On the other hand, if the team is losing and even when the match is about to finish, NairaBET will offer you some money as compensation. For Pre Match, if you have an accumulator and some games have won and you are afraid one team will spoil it, you can cash out your winnings.