Do you like betting on your favorite football games and want to know how to increase your winnings, I guess your answer is yes and I will show you some tricks to trade with the little amount of money in football betting.
Am not interested in other sports betting apart from football and I can only tell you what I know and not what I heard, this simple tricks about how to trade on
football betting and win big
is something that I have been doing for a long time before I decided to share it with you.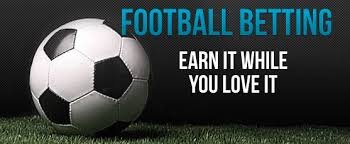 If you want to know more on how to bet and win on any Nigerian sports betting website and companies then consider reading
HOW TO BET AND WIN IN NAIRABET, BET9JA, 360BET, SUREBET247 ETC
because this article is about
how to trade with small money and win big
which am going to teach you.
Before I begin let me tell you few things you must know, sports betting is a gambling and in gambling, two things are involved. (Winning and losing) and if you are only interested in winning, winning and winning then better don't gamble at all because there is no easy way to make money.
Now let me teach you how to trade with little money and turn it into big money but first, I will like to explain what I meant by trading.
Trade
, can be defined as the action of buying and selling goods and services or exchange (something) for something else, typically as a commercial transaction.
In football betting, the trading is a bit different because we are going to be using our money to bet on sports Odds and continue betting until we reach the minimum payout and then we can withdraw and start trading again.
Note:
You must know a bit about football and many clubs and leagues all over the world so that you can now what to bet when you see an opportunity.

Step 1
You must have a good smartphone or computer with internet connection and then register to any of the following sports betting site (NAIRABET, BET9JA, 360BET, SUREBET247 etc).
Step 2
Login and fund your account with N200 -1000 or any amount you can afford using your debit card (MasterCard, visa or verve).
Step 3
Go to a site like
flashscore.mobi
or
livescore.in
to see all the football matches and their Odds for the whole day, check to see if you have teams you trust or that scores goals a lot.
To know more about the match you want to bet on you can check head to head of the 2 teams to know their usual score line and more
Note:
There are 3 types of betting plan you should decide when trading to increase your money, using Bet9ja as an example you can only withdraw when you win up to N5000 and I assumed you have N1000 and needs to increase it to N5000 or more to be able to withdraw it.
=> Bet on Over 2.5
Since we have N1000 naira to trade with then find 2 or 5 matches that you believe can score up to 3 goals in the match that have 2Odds and above play it N500 each or N200 each and if the two teams score up to 3 goals each your money will now be N2000 plus, continue like that until your money reaches 5000 naira and sometimes even when one game fails and the other wins you will still regain your capital.
I have used this method to turn my N400 to N5000 withing 24hours but you must know much about teams that score goals using their past head to head stats.
=> Bet on Single game straight win
Find a single match that you can predict the winning side with up to 1.8 - 3 Odds then play it with N500 or N1000 to turn your N1000 capital to N2000 or more.
Last time there was this match I saw on bet9ja, after forecasting it I was able to predict the winning side and I played it 2000 naira and won N8,000 plus from that single match.
=> Bet on either team to win
This plan is my favorite because the only way to loose is when the match ends in a draw but once there is win from either side you will surely make a small profit.
Find out any match with up to 2Odds each, example any match with 2.3 -3.1 Odds then bet the home team to win with N500 and bet the away team with N500 and once any team wins you are a winner.
If home team wins you will get like N1200 with the N1000 your invested and N200 naira is the profit but if the away team with 3 odds wins then you will get up to N1500.
I have been using this method to win because I am not afraid of any team to win or lose but a draw match means failure in this plan
Hope you have learned to grow your little money to something big,