Are you interested get a loan that will enable you to boost your business or meet up some urgent needs and
paylater
if that is the case then am glad to inform you that it can be much easier to get loan in Nigeria with just a few clicks on your phone, no need to go to any bank for loans but online your smartphone and application called
Paylater
can get you started.
Paylater App
helps you to get a small loan from 10,000 - 1,000,000 Million naira, no paperwork required and once you are qualified for the loan your money will be sent to your account straight.
What is Paylater
Paylater is a simple, entirely online loan platform that provides short-term loans to help cover unexpected expenses or urgent cash needs. You can apply for a Paylater loan 24 hours a day, 7 days a week with their quick loan application process that lets you know your status within minutes.
Currently only available in Nigeria. you can see their official website at
https://www.paylater.ng/
.
Who is eligible to get loan
Everybody is allowed to participate and get loan but it will be easier if you are working and earned salary on monthly basis they need to be sure that you are capable of repaying your loan before your request can be granted and knowing fully well that you have the means of paying back will increase your chances of getting loan through
Paylater
How to get Loan using Paylater App
To get loan you need to download their android app then open the application and complete the following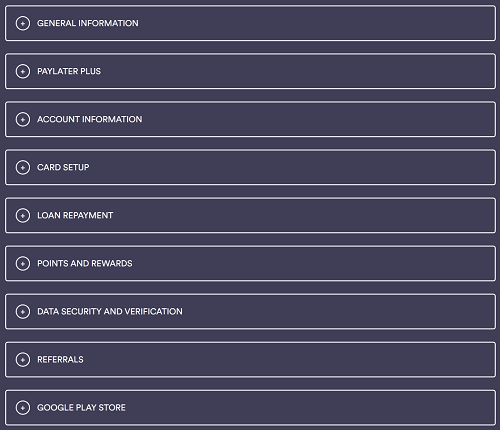 On this part you will need to fill your profile details including you card details, not your security pin but your full name, card number etc.
How to qulifiy to get up to 1million loan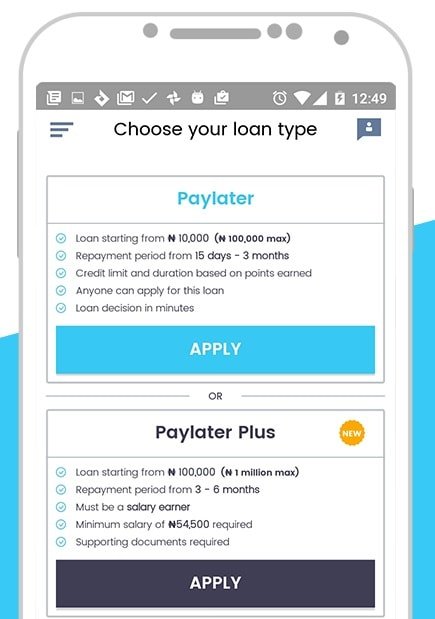 As you can se above there are two packages available for you namely
Paylater
, and
paylater plus
Paylater plan
Paylater plan only allows you to get 10,000 naira loan to pay within 15 days or 3 months and doesn't require any special thing to get but paylater will determine to accept your loarn request or not.
Paylater Plus
Paylater plus gives you the option to get between N100,000 to N1,000,000 but requires some special requirements before you can qualify for Paylater plus.
Requirements for Paylater plus
=> Repayment period from 3 - 6 months
=> Must be salary earner
=> minimum salary of N54,500
=> Supporting documents of prove will be required.
If you are qualify to get upto 1,000,000 loan then go ahead and request for it but if you don't try the Paylater plan to test how the service works.
How much is the interest rate for Paylater loan
I know the question on your mind right now must be "how much is the interest rate for paylater loans" because that is the most important thing to know when requesting for loan.
To answer you question paylater loan interest start 15% - 30% of the total money requeested, the interest is calculated based the repayment period.
For Paylater plan
When you request for loan of N10,000 to pay back in 15 days you will pay 15% interest.
15% interest of 10,000 = 1,500
10,000 + 15% = 11,500
To pay back in 30 days then youe will be paying 30% interest rate
30% interest of 10,000 = 3000
10,000 + 3,000 = 13,000
If you needed more cash upto 1,000,000 then let do small calcualtion on how the paylater interest rate works, i already told you that you can only get loan for big amount when you opt for
Paylater Plus plan
The loan validity for Playlater Plus is betwen 3 - 6 Months and the interest rate will be determined by the 3 months or 6 months repayment method
Willing to pay back in 3 months will be 15% interest rate while to pay back in 6 months will be 30% interest rate, now let do some calculations.
=> 100,000 loan to pay back in 3 months is 15% interest
15% interest = 15,000
100.000 + 15000
= 115,000 in 3 months
If you want N100,000 to payback in 6 months you will be ready to pay 30% interest rate.
30% interest rate of 100,000 = 30,000
100,000 + 30,000
= 130,000 in 6 months
Other things you need to know about Paylater
=> You can earn points to reduce the interest rate down to 5% when you invite your friends to use paylater services and when you pay back on time etc.
=> Paylater determines your eligebality and how much you are qualified to get through your profile and your account transaction power.
=> You don't need to go to any back once accpted you will see alert on your phone
=> Paylater is high scure and convinent
=> Make sure you have the means of paying back because you can't run, they have your location, bvn and all the info to track you down if you are think the other way round.