91
« Last post by Everest on March 14, 2023, 11:14:11 AM »
Nigeria has been divided into 6 Geopolitical Zones, but can you tell which state falls into each geopolitical Zones in Nigeria? The answer to this question is No, but we will learn that today in this guide. Your children might be asked to list the six geopolitical Zones in Nigeria, which might be hard for you to tell them off the head.
How and when did Nigeria divide into six geopolitical Zones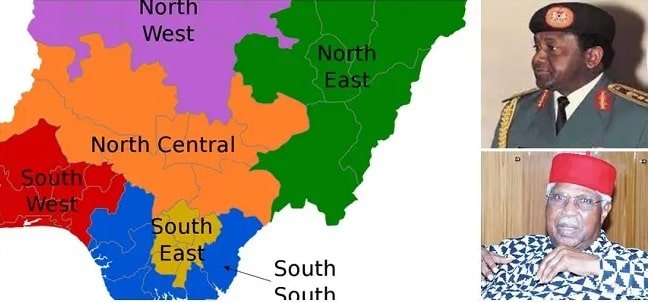 In the 1980s, a powerful politician from the "former" Southern area of Nigeria proposed dividing Nigeria into six distinct political regions.
He was concerned that the Hausa-Fulani, using the "one" North political gimmick to oppress other Northern ethnic groups and the rest of the country, would continue to dominate politics.
Thee military administration of Sani Abacha in 1995, however, is credited with the definitive establishment of geopolitical zones in Nigeria.
In Nigeria, there are six distinct political regions. The number of states that fall within each of Nigeria's geopolitical zones is as follows:
1. South West (6 states)
Lagos
Osun
Oyo
Ekiti
Ogun
Ondo
2. South East (5 States)
Ebonyi
Abia
Anambra
Imo
Enugu
3. South-South (also known as Niger Delta region, 6 States)
Delta
Edo
Akwa Ibom
Bayelsa
Cross River
Rivers
4. North East (6 States)
Borno
Gombe
Adamawa
Yobe
Bauchi
Taraba
5. North West (7 States)

Jigawa
Kaduna
Kano
Katsina
Kebbi
Sokoto
Zamfara
6. North Central (also known as Middle Belt, 7 States)
Benue
Kogi
Kwara
Nasarawa
Niger
Plateau
Federal Capital Territory
color=red]Conclusion[/color][/b[: Keep in mind that the North-East region has the most total land area. Terrorist organizations like Boko Haram and ISWAP launch their bloodiest attacks from this region.



Also read]



* Full list of Abuja postal code or Zip code updated
* Top 10 richest people in Nigeria
* Nigerian Current affairs Question and Answers