I recently updated my Android Opera mobile browser but one feature that I really don't like is the news notifications that just keeps coming to my phone with a sound as if I received normal SMS or Whatsapp chat alert but only news Notifications from an unknown random news website.
How to disable Operamini News Notifications
If you are not comfortable with the
Opera mobile browser news notification
and want to disable it then you are just at the right place at the right time because I will show you simple steps to disable Opera mobile browser knows notification with screenshots.
Step 1.
Disabling Opera mobile browser news notification is simple all you need to do is to click your opera menu tab where you will see settings icon as you can see in this image below.
Step 2.
After clicking on the setting icon then go to notification as you can see below
Step 3.
Once you click on notification you will see something like: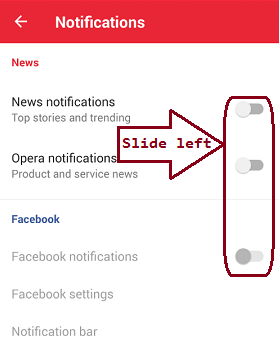 =>News Notification
=>Opera Notification
=>Facebook Notification
You can disable all the notifications by sliding to the left the OFF and ON button and if you still, want to leave some notification like Facebook Notifications then you can still slide the button to the right.
All active notification button will be in blue color, slide to the left to switch it OFF or to the right to switch it ON
Finally, if you still have any question or suggestions regarding disabling of Opera mini News Notifications then feel free to share with me using the replay option below.