Posted by: Everest
« on: January 03, 2020, 03:55:30 AM »
Okash is another trusted mobile loan app powered by Blue Ridge Microfinance Bank Ltd, the loan platform is designed for Nigerians who need quick cash to meet their urgent financial needs. However, I deemed it necessary to review this awesome app because some people have been scammed while trying to get a loan either through a mobile app or directly from online platforms.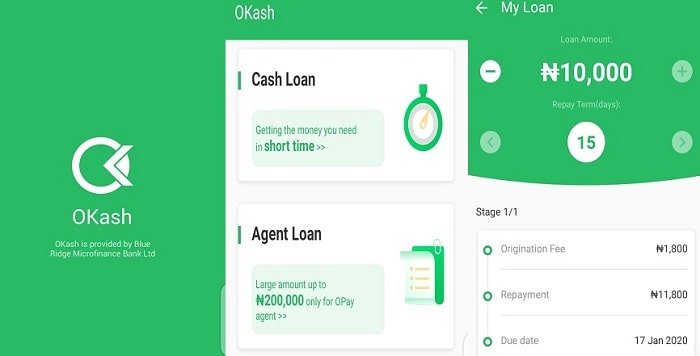 The question is how do we differentiate the real ones from the fake ones following the sensitive information that we provide during the registration which usually includes:
Bank Verification Number (BVN)
Full Name (Surname/First name)
ATM details including the Pin
I have not seen any mobile loan app in Nigeria that doesn't ask for bank verification number9BVN), and ATM details including the security pin, that is why you must be very careful when looking for a loan. Okash is one of the loan apps that I have used and trusted.
Since I understand the risk involved, I will never review any loan app that I have not used, meanwhile, I recently detected and exposed one
loan scam platform
using fake facebook profiles and fake comments to gain people's trust and scam them at the end.
Anyway, that's by the way, we are still on Okash loan but before we continue, I will like to show you
8 Best loan app in Nigeria that pays faster
I will update the list soon because I have discovered other app that offers loan fast.
How Okash Loan works
Just like every other loan app, you need to download Okash from Google Play store and register as usual, once your registration is complete then you are good to go. However, If you have Opay mobile app installed on your phone then you might not be needing the Okash app because you can access the same platform directly from the Opay mobile app but Okash is specifically designed for the loan offer.
However, their system is relatively different and I wouldn't say they are the best loan app that I have used but they are real and trusted. To receive your loan you will need to provide your bank details and link your debit card for authentication and easy repayment
Loan approval process
Getting a loan through Okash is simple and secure, the approval process is straight forward and loan disbursement is fast too (Less than 5 minutes after approval). Moreover, you will not be able to borrow a reasonable amount at the beginning since you are new but will be increased as soon as you build a good loan history with them by borrowing and repaying your loan when due.
Note:
During registration you will provide 2 emergency numbers and must be people who know you and can vouch for you. You are not allowed to use your phone number as an emergency number, sadly Okash might call any of the emergency numbers and ask them if they know who you are before granting any loan to you which I don't like but not a big deal anyway.
How much loan does Okash offer and duration
Okash offers up to N200,000 to Opay agents and starts from 5,000 - 10,000 for none agents but 10k is not the highest you can get from Okash as long as you remain creditworthy. Their interest rate is a bit attractive compared to 60% of other loan apps that I have used.
Available loan offer and duration will increase as long as you are faithful in repaying your loan but based on my experience, they gave me a maximum of N10,000 loan offer with18% interest rate to be repaid in 15 days at the initial stage.
* Loan offer = N10,000
* Duration = 15 days
* Interest Rate =18%
* Interest Amount: N1,800
Total amount to be paid in 15 days =
N11,800
Finally, Okash is not at all a scam if you are afraid, they are 100% genuine but if you have encountered any problem with them feel free to share with us whether good or bad because when we talk they will listen.