Making money online can be easy when you have an authority website that has gained more reputation but harder when you are just starting and more frustrating when you have little or no traffic.
Traffic simply means website visitors for those who don't understand what I meant by traffic and to make money on your website all depends on the volume of your website visitors and how targeted they are.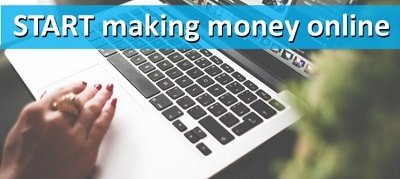 Am sure this is not the first time you have seen something like this "How to make money on your website even with little traffic" but I intend to make it more clear to you and equally guide you on how you can make money online as a beginner or when you don't have much traffic.
Before I decided to write about this topic, I personally experimented to see how possible it can be making money with my new blog that receives only a few visitors daily and the results proved to me that making money with little traffic is certainly possible
I shared how I made some money on my new website through jumia affiliate program
here
and I equally shared some positive ways to make money online on that particular post.
How to make money on your website even with little traffic
Now, coming back to our main topic, I will tell you that making money online as a blogger solely depends on the approach you use.
In 2013 my thought was that if I create many websites then I will be able to make more money but at the long run I learnt that having just one authority website can earn more money than what 10 new or low traffic cannot earn and after few years I noticed that one website can earn more than few low-quality websites.
The fact remains that a website does not turn to an Authority website overnight but over time with hard work but I will not discuss authority websites and new websites because this topic is actually to help you make money irrespective of small or big a website is.
I wrote about
How to make $10,000 - $20000 Monthly as a blogger in Nigeria
which can surely be of help if you are looking for a way to make real money online through blogging.
Steps to make money online even with little traffic
Hosting
and creating an awesome website that appeases your eyes will not be enough to make money online but you need to write some helpful content (articles) that will attract people to your website and when people started coming you will be able to earn some money but there are few things you must do to be able to make money even when you don't have many visitors coming to your website.
Create niche blog or call it niche website that Focuses on a particular topic and should target some products and services.
Example
If you have an
Automobile Niche blog
where you share more info about cars then advertising and marketing original car tyres and other spare parts will not be a bad idea because anyone that visited your website is surely interested in either cars or its parts and you might not need millions of visitors to make money in such website all you need is to write the good articles that will attract the right people that will surely be interested in what you have.
Getting visitors is the biggest challenge but with help of paid and free Keyword research tools, you will surely find your way through.
You also need a simple but profession responsive designed website, with easy navigation, faster loading to make sure you don't hamper users experience in any way.
Another method is Google Adsense which is one of the main monetization methods for many of us but with a reasonable traffic, you might not make good money with Adsense.
The good news about Adsense is that even when your website is not targeted you can still make some good money especially when you have good organic traffic and even many people news websites and general blog are using it to make money
Finally am sure you have learned one or more things reading this article but if you wish to read more then check out
Webmasters category
for more ways to make money online.